All unit costs and calculations correct at the time of publication.
Green mortgages: what are they and could they help you?
Time was, you had lots of separate outgoings – from your mortgage to your car to your home energy bills – none of which were really related.
But increasingly, that's changing. You can, for example, buy an electric car and generate your own renewable electricity at home, such as solar, to power it. So, your home energy costs are now closely entwined with your car use.
How about going a step further and adding your mortgage payments to that expanding home energy ecosystem? This is now possible with so-called green mortgages, which incentivise people to live in energy-efficiency households.
While green mortgages have been available for a while as a niche product, an increasing number of lenders are offering them, spurred on by the government, which in July 2019 set up a £5 million Green Home Finance Fund as part of its Green Finance Strategy.
The fund was put in place to allow lenders to develop products like green mortgages and loans with the aim of encouraging UK homeowners to prioritise the purchase of energy-efficient homes, or to improve the efficiency of older homes.
But what exactly is a green mortgage and could it benefit you?
What are green mortgages?
So-called 'green' financial products are relatively new to the UK market, but have slowly grown in popularity.
Green mortgages offer lower rates to people that are buying an energy efficient home, or to those who have put work in to improve the energy efficiency of their home.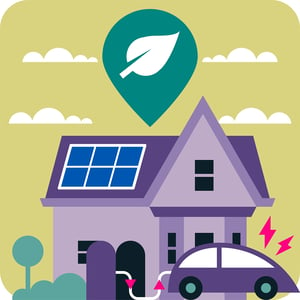 Currently there is no set criteria or definition of a green mortgage or loan, so lenders can set their own criteria. However, they either prioritise customers buying energy efficient homes or making energy efficient home improvements.
Who is offering green mortgages and am I eligible?
It's a relatively new market and not all lenders yet have green mortgages. But an increasing number are doing so, so it's worth shopping around to see if you can benefit from your green lifestyle.
Ultimately, whether you qualify for a green mortgage will depend on your individual circumstances and each lender's specific terms and conditions.
For example, Barclays offers better rates on certain fixed rate mortgages to those buying a new build home from a list of approved building partners, as long as the property meets certain energy efficiency standards.
Specifically, these are a rating of 81 or above on a Predicted Energy Assessment (PEA), which you'll be provided with if you're buying a property that hasn't been completed yet; or energy efficiency band A or B on an Energy Performance Certificate (EPC), which you should be provided with for properties that already built. You'll need to provide the PEA or EPC from your house builder when you apply to Barclays for a green mortgage.
Among other major lenders incentivising household energy efficiency is Nationwide Building Society. Earlier this year it launched its Green Additional Borrowing product, which offers reductions of up to 0.69% on its standard rates. In order to be eligible, you must spend at least 50% of the additional money you've borrowed on energy efficient home improvements, and you'll also need to be an existing customer with a Nationwide mortgage.
Nationwide has also committed to developing a wider range of 'greener' products and has set aside £1 billion to achieve this.
Other lenders offering green mortgages include Saffron Building Society – it's Retro Fit Mortgage will reward you with a rate reduction if you carry out works that improve the energy efficiency of your home - while Lloyds has also said it will enter the market.
Making your home more energy efficient
There are a number of different ways that you can improve the energy efficiency of your home, to improve the rating on your home's EPC and potentially become eligible for the lower rates offered on green mortgages in future. While there will be an initial cost involved, there are also lots of different incentives you can take advantage of.
For example, if you are planning to upgrade the heating in your home to a renewable system using technology like air or source heat pumps and solar water heating, you could be eligible for the Renewable Heat Incentive.
If you're thinking of making the switch to an electric vehicle, you could also consider getting a dedicated charging point installed at your home. The Government's OLEV grant offers EV drivers a £350 grant for purchasing and installing a home charging point. It then makes sense to have solar panels installed, so that you're generating your own green electricity, rather than relying on the grid.
Don't forget too other simpler changes like upgrading your home's insulation – this can make a big difference.
The savings available through the lower green mortgage rates if you become eligible will also help to put pounds back in your pocket.
Take control of your energy use
To make your home as energy efficient as possible – whether it's to qualify for a green mortgage or just cut your energy use more generally – it's important to get a better understanding of how and when you're using energy.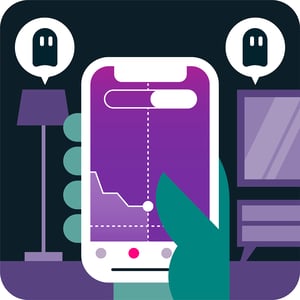 The best way to do so is to use Loop, an energy-saving assistant that allows you to monitor and understand how you use electricity and then helps you to make smart decisions about using less of it. You can track your electricity use over hours, days, weeks, months and years - with accurate costs and clever ways to use less.
Green financial incentives
It's clear that there is still some way to go when it comes to green mortgages and they remain a relatively niche product.
But as more lenders begin to offer greener financial products, then an increasing number of home owners may find themselves tempted to improve the energy efficiency of their dwelling – with multiple advantages for their back pocket and the environment.
• • •
With Loop, you can find out how you use electricity, then make smart decisions about using less - click here to find out more. We have a risk-free, no-quibble, money-back guarantee as standard, so what's to lose...apart from some £££ from your bills and some weight from your carbon footprint?
Subscribe
to our regular newsletter below to become part of the Loop community, and receive regular updates to help you make smart decisions about using less energy.