All unit costs and calculations correct at the time of publication.
Soon, new homes will be much more energy efficient
Our homes, new and old, account for 20% of greenhouse gas emissions in the UK.
So, if the UK is to meet its ambitious target to bring all its greenhouse gas emissions to net zero by 2050, then tackling emissions from houses will be a key part of that.
As it stands, in the words of the influential Committee on Climate Change, "UK homes are not fit for the future".
Despite an increasing emphasis on cutting carbon emissions, even new homes, which are usually more efficient than older homes, aren't built to high enough standards. Home buyers often find themselves in cold and draughty newbuilds with heating bills far higher than expected.
The CCC added, in a report last year, that "Greenhouse gas emission reductions from UK housing have stalled, and efforts to adapt the housing stock for higher temperatures, flooding and water scarcity are falling far behind the increase in risk from the changing climate".
New standards
The government's answer to this challenge came in October, with the launch of a consultation proposing tough new energy efficiency standards for new homes; once confirmed, the new rules are expected to come into force, quickly, by the end of this year.
They would potentially result in new homes that result in 75-80% less carbon emissions than one built to current energy efficiency requirements.
How might this happen? At the centre of the government plans for future new builds is one piece of technology: heat pumps. These use existing warmth in the air or ground to warm up radiators, underfloor heating systems, or water in the home. They are a much greener alternative to traditional gas boilers, which the Conservative government has pledged to ban for new homes by 2025.
Heat pumps would add an average of £800-£2,500 to the costs of building a home in 2020 depending on the type of house, according to the CCC's report. This would add between 0.6-2.0% to total build costs.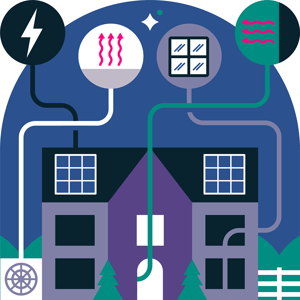 Other features of future homes envisaged in the government report include renewable energy generation such as solar panels, a waste water heat recovery system, triple glazing and minimum standards for walls, floors and roofs that significantly limit any heat loss.
Experts noted that the plans announced in October also include the scrapping of a loophole that has allowed house-builders to continue building homes on large sites to old energy regulations.
Money-saving
Of course, reducing greenhouse gas emissions isn't the only motive for creating more energy efficient homes: they save homeowners money too. In fact, a poll published in January 2020 showed that of people who say they would consider energy efficiency when moving home, 56% said it would be more for low ongoing bills compared to 39% who want to help the environment.
In its consultation on its proposed new measures, the government estimates that its preferred package of standards would add £4,847 to the build-cost of a new home and would save households £257 a year on energy bills.
In the meantime, what do I look for?
Though the details aren't agreed, the UK's net-zero target, which has been passed into law, means new homes in the near future will have much better energy efficiency measures.
But in the meantime, what should you look for if you're buying a new home?
First, be aware that while all new homes must be assessed against Building Regulations, there can be significant differences in house-builders' approaches.
If you're in the market for a new home, it's worth looking into individual developers' policies on environmental and energy issues. Some smaller house builders, such as Citu, are aiming to be more eco-friendly. To see how the larger home builders compare, there are some helpful industry rankings on sustainability.
An Energy Performance Certificate (EPC) is a great starting point for understanding a property's energy efficiency. All properties must now have one and you'd be wise to read it from cover to cover.
The certificate shows how much energy the building uses and advises how energy efficient it is. It gives the building a rating from A to G, with A the most energy efficient and G the least.
The certificates are based on a professional assessment of the construction and type of property, as well as the likes of heating systems, insulation and double glazing.
You can also do your own research. Good insulation is key. So, look inside the cavity to check the quality of the insulation. Look for features like LED light bulbs and smart thermostats. Beware of large, draughty rooms that will be hard to heat. You can also seek out any renewable energy features.
• • •
With Loop, you can find out how you use electricity, then make smart decisions about using less - click here to find out more. We have a risk-free, no-quibble, money-back guarantee as standard, so what's to lose...apart from some £££ from your bills and some weight from your carbon footprint?
Subscribe
to our regular newsletter below to become part of the Loop community, and receive regular updates to help you make smart decisions about using less energy.