All unit costs and calculations correct at the time of publication.
I know my home needs to be properly insulated, but what should I do?
Insulating and draught-proofing your home will make it warmer, cosier, more environmentally-friendly and cheaper to run.
The benefits of insulation don't stop there: it is fairly easy, some of the upgrades are cheap to do, and overall it can improve your home's EPC rating - a bonus when you come to sell up and move. If, like lots of people, you're spending more time at home these days and are ratcheting up your energy costs as a result, then it becomes even more sensible.
So, here's a look at the different ways to insulate and draught-proof your home, including the approximate costs and money savings of each.
Pipes and water tank
Start simply and tackle your hot water pipes to reduce heat loss. You just need to buy some foam lagging to wrap around pipes, which you can easily fit yourself.
To insulate your water cylinder, you just need to give it a nice cosy jacket. Specifically, a British Standard jacket - make sure it's at least 75mm thick - which you can find in your local DIY store and fit yourself.
Cost savings: According to Energy Saving Trust, adding installation on an uninsulated tank yourself would cost just around £15, while primary pipe insulation should cost around £20. You'd soon make your money back: a semi-detached house in England, Scotland or Wales could save £90 per year and 485 kilograms of CO2 emissions.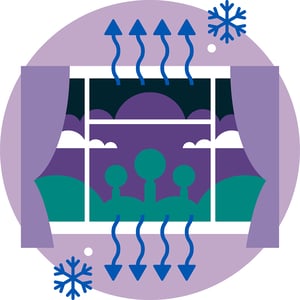 Draught-proofing
Take on those pesky, unwanted holes and gaps and banish cold draughts from your home, while keeping precious warm air inside.
Sealing gaps around your doors and windows is quick and fairly straightforward. You can get a professional in to do the work, or tackle it yourself. Also, you can spread the job out, doing one window at a time if that suits you.
Cost savings: According to Energy Saving Trust, based on a typical semi-detached property in England, Scotland or Wales, professional draught-proofing could cost around £200 for your whole house, while DIY draught-proofing will be cheaper. Assuming the property is gas-fuelled, draught-proofing around windows and doors could save you around £20 per year. If you have an open chimney, draught-proofing your chimney when you're not using it could save around £15 per year.
Roof and loft
It's time to consider your roof and loft; just imagine all that warm air rising and escaping, as well as all of the gusts filling the space with draughts.
Assuming you have access to your loft, then insulating it should be a fairly simple job, putting in place sheets of typically mineral wool insulation. There are plenty of step-by-step guides available online on how exactly to go about doing this.
Using a recommended depth of 270mm, this insulation will capture heat normally lost through the roof and stop cold air from getting in. As well as mineral wool, the National Energy Foundation says that fibreglass and recycled paper products work well too.
Cost savings: According to Energy Saving Trust's calculations for a semi-detached house in England, Scotland or Wales, adding 270mm of loft insulation to an uninsulated loft would typically cost £300. But you'd quickly make your money back, cutting £150 from your energy bill each year, as well as saving 610 kilograms of CO2 emissions each year.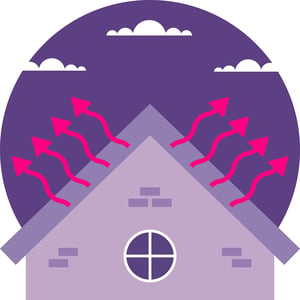 Solid wall
If your home was built before 1920, it probably has solid external walls rather than cavity walls.
If you're not sure which type of walls you have, then check the brickwork; solid walls alternate short and normal-length bricks, unlike cavity walls, which just consist of normal length bricks. If the brickwork has been painted over, then measure the width of the wall, and if it's more than 260mm thick it probably has a cavity, while narrower than that is probably solid. If in doubt, you can ask a cavity wall insulation company to check for you.
The difference is important: solid walls let twice as much heat escape as cavity walls, so it can make a really big difference to insulate them. This can be done internally or externally, although external insulation is typically more expensive and might need planning permission.
Cost savings: Insulating solid walls won't come cheap - you're likely to need to spend £13,000 for external wall insulation or £7,000 for internal, according to Energy Saving Trust's calculations for a semi-detached house in England, Scotland or Wales. As a result, you could save £225 on your energy bill each year and a whopping 930 kilograms of CO2 emissions.
Cavity wall
If you have cavity walls - meaning two walls with a gap in between - then your task is easier as they can usually be safely filled with insulation.
However, it's not a job you can do yourself as you'll need a professional to spray your walls full of or foam, or alternatives such as beads.
Cost savings: According to Energy Saving Trust's calculations for a semi-detached house in England, Scotland or Wales, cavity wall insulation might typically cost £475, but you could save £165 on your energy bill each year, as well as 680 kilograms of CO2 emissions.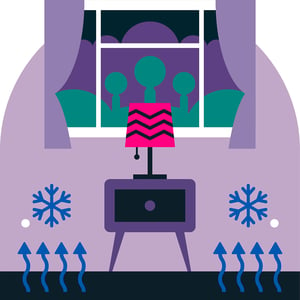 Floor
Insulating your floor reduces draughts and provides a warmer, snugger home.
Rigid foam is often used, although there are several ways to insulate floor spaces - you could even get a robot to do it
Cost savings: According to Energy Saving Trust, a typical installation could cost you between £520 and £1,300, saving a semi-detached house in England, Scotland or Wales £45 per year and 185 kilograms of CO2 emissions.
Windows
All buildings will lose heat through windows, but there are ways to keep this to a minimum. If you're one of the ~7% of UK households with no double glazing it's definitely an upgrade worth considering to keep your home warmer and quieter as single glazed windows lose twice as much heat as double glazed units.

Cost savings: Naturally this depends on how many windows you have (!) but here's some useful info. Upgrading a typical house from single to double glazing could save up to £175 on energy bills, more if energy costs increase. For the ultimate upgrade, triple glazing is estimated to reduce heating bills by as much as 50%!
Help to insulate your home
To help offset the upfront costs of insulating your home, there are several types of support available for home insulation and related energy efficiency measures, including:
The government's Energy Company Obligation (ECO) supports energy efficiency improvements in low income and vulnerable households. Most of the support is focused on cavity wall insulation and loft insulation, but sometimes help is available for replacing an inefficient boiler or other heating system.
Some energy suppliers offer free insulation: see this helpful guide from Which? for more details
• • •
With Loop, you can find out how you use electricity, then make smart decisions about using less.
Got a smart meter? Great news! Link the Loop app and enjoy full access to all Loop benefits for free, no purchase required.
Subscribe
to our regular newsletter below to become part of the Loop community, and receive regular updates to help you make smart decisions about using less energy.