All unit costs and calculations correct at the time of publication.
Q&A: Do solar panels affect the value of your home?
If you install solar panels, will it affect the value of your home when you come to sell? Do solar panels affect your chances of getting a mortgage?
Here are the answers to these and other questions about how solar panels might impact your mortgage, insurance and more.
Will installing solar panels affect the value of my home?
Solar is the most common source of renewable energy and there are many advantages to installing solar panels on your home:
They're 100% green and don't release any carbon dioxide or greenhouse gases.
They're durable and require little maintenance.
Combined with a home battery, you can store the electricity captured during the day for use later: this works very effectively with an electric car.
Fitting solar panels will save money on your energy bills, as you won't have to buy as much – if any – energy from the grid.
You can benefit from the Smart Export Guarantee, or SEG, a way of getting paid for the excess electricity you generate from solar panels.
You'll become more self-sufficient, increasing your household's energy independence and resilience.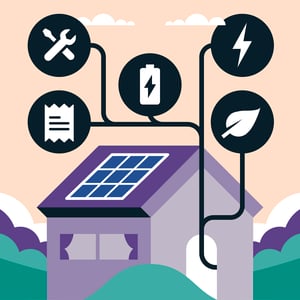 So, there are many reasons to install solar panels.
Currently they seem to have little direct impact on house prices – either positive or negative. That was the broad conclusion of a 2017 survey of estate agents by NAEA Propertymark, for Which? two thirds (67%) of estate agents said installing solar panels on your home makes no difference to how much it's worth.
We think that could be set to change though as more people come to appreciate the difference that solar can make to household self-sufficiency and, in combination with other jigsaw pieces like electric vehicles, home batteries and electric heating, cost and environmental impact.
Even without any of those other smart energy assets, they do provide lower energy bills, and could also raise your home's Energy Performance Certificate (EPC) value, so they may just tempt a buyer who's sitting on the fence.
Will solar panels affect my ability to secure a mortgage?
According to the Council of Mortgage Lenders, the only effect solar panels will have on a lending decision will be the extent to which they affect the value of your property.
Do I need planning permission for solar panels?
Planning permission is not usually required for solar panels as installing them is a so-called 'permitted development', without the need to apply to your local council.
However, there are some rules to follow:
Panels can't be installed above the highest part of the roof and should project no more than 200mm from the roof.
The panels must not be installed on a building that's in the grounds of a listed building.
If your property is in a conservation area, panels must not be fitted to a wall which fronts a highway.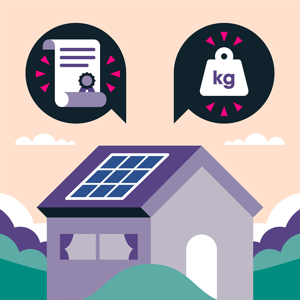 Also, solar panel installations are normally subject to standard building regulations. For example, you need to check that your roof can support the extra weight they add. Use an installer registered and certified by the Microgeneration Certification Scheme (MCS).
Will solar panels affect my home insurance?
Solar panels are usually covered by home insurance policies.
If you are in any doubt though, it's always a good idea to contact your insurer and check you'll be covered before you go ahead and install them.
All in all, there are few barriers to fitting solar panels. As people get increasingly savvy about reducing their carbon footprint, it's likely that solar will remain an extremely popular way for homes to generate their own energy, and prove an attractive prospect for buyers looking to contribute more to reducing their environmental impact.
Traditionally it's been difficult to get accurate estimates on how a household would benefit from fitting solar. We've recently launched a new feature – solar and battery simulation – an innovative, data-driven tool that shows accurate analysis of exactly how much of an impact solar and battery could make to you. Try it now for free with our 90-day trial – you may be surprised at what solar can do for you.
• • •
With Loop, you can find out how you use electricity, then make smart decisions about using less - click here to find out more. We have a risk-free, no-quibble, money-back guarantee as standard, so what's to lose...apart from some £££ from your bills and some weight from your carbon footprint?
Subscribe
to our regular newsletter below to become part of the Loop community, and receive regular updates to help you make smart decisions about using less energy.