All unit costs and calculations correct at the time of publication.
Planning to switch energy tariff? These are the best suppliers
If you think your energy supplier is too expensive or they palm you off with awful customer service, then it's probably time to switch.
---
NB: Information in this article was correct at the time of publishing (24/04/20). The energy market has consolidated through late 2021 and some references in this article may now be out of date.
---
You might fear that by changing supplier, you'll just get more of the same. But actually, the energy market has evolved massively in recent years, and there are many more energy suppliers and tariffs available to households. It's no longer a case of solely choosing from the 'Big Six' large energy companies – there are also now dozens of smaller providers to consider.
But how do you find the right one? To help, consumer champion Which? surveyed nearly 8,000 energy customers to identify the best suppliers. The three providers that came out top were all challenger brands:
1. Octopus Energy
The best ranked firm was Octopus Energy, an innovative, green supplier that launched in 2016 and already supplies energy to over 1.2 million UK homes.
All of the firm's tariffs feature 100% renewable electricity and it charges no exit fees.
Octopus was the only energy company on the survey whose customers rated it 'excellent' for customer service.
2. Pure Planet
Launched in 2017, Pure Planet is a digital-only energy firm, so no paper bills or customer service calls; instead you manage your account with its app.
Like Octopus Energy, Pure Planet is another green supplier, selling 100% renewable electricity.
Pure Planet shows you don't need to sacrifice good value for going green, as according to Which?, customers were the most enthusiastic about its value for money. It was also the highest scoring newcomer in the survey.
3. So Energy
So Energy is the oldest of the trio of newcomers that top the Which? rankings, having launched in 2015. Like Octopus and Pure, it also supplies 100% renewable electricity and aims to use technology to help keep costs down and make life easier for customers.
In the survey, customers rated the supplier consistently well, from customer service to value for money. It has also been praised for its speedy response to customer calls and emails.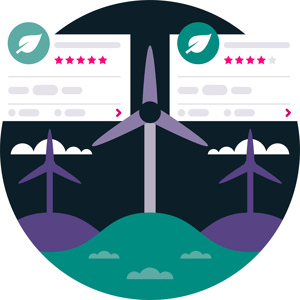 The best of the rest
Other high scoring suppliers in the survey included the following firms, all of which do things a little differently:
Ebico

, a not-for profit supplier which is on a mission to fight fuel poverty.

Bulb

, which says it provides energy simpler, cheaper and greener, providing just one tariff for everyone.

People's Energy

, a crowdfunded green energy company that promises to return 75% of all profits to its owner-customers.

Powershop

, which sells electricity in bundles called Powerpacks, in an effort to offer customers greater control over their spending.
Newcomers don't all shine
It's clear that there are several new firms that are shaking up the energy market and seriously challenging the big established firms. They're increasing competition, often providing greener choices, and successfully winning over customers in the process.
But Which? warns that new doesn't always mean better, as some of the worst performing firms in its survey are also newcomers. For example, Together Energy, which launched in 2017, was the lowest-ranked energy firm. In fact, the firm's CEO recently acknowledged its failings in a letter to customers.
It's also important to know that some new suppliers simply haven't survived and have gone bust. Here's what to do if that happens to your supplier.
Make the switch
Switching to a cheaper tariff is one of the simplest ways of saving money on your home energy bills, potentially saving you around £300.
As well as the money savings, and opportunity to find a provider offering better customer service, switching is also much less hassle than some people realise.
Some of the newer, more innovative suppliers offer tariffs you won't find elsewhere. For example, Octopus Energy offers an Export tariff, which was designed to tie in with the introduction of the Smart Export Guarantee (SEG) incentive for homeowners with solar panels. Octopus also offers Agile tariffs, which enable you to shift your electricity use to when it's cheapest and can even pay you to use electricity.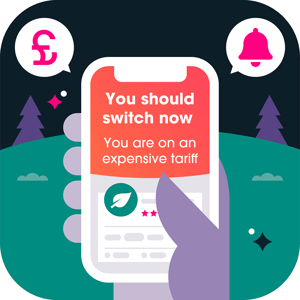 Switch with Loop
Loop can help you make the switch. The Loop app shows how much you can save, all the available supplier options and then makes it really simple to actually switch using the app.
We understand you don't choose a new energy supplier on cost alone; you also want a company that is reliable and offers good customer service. So, we use independent supplier ratings provided by Citizens Advice Bureau, which are based on complaints handling data, among other performance measures.
There's never any need to stick with an overpriced tariff or put up with bad customer service – take your business elsewhere.
• • •
With Loop, you can find out how you use electricity, then make smart decisions about using less - click here to find out more. We have a risk-free, no-quibble, money-back guarantee as standard, so what's to lose...apart from some £££ from your bills and some weight from your carbon footprint?
Subscribe
to our regular newsletter below to become part of the Loop community, and receive regular updates to help you make smart decisions about using less energy.