All unit costs and calculations correct at the time of publication.
Take the pain out of switching energy tariffs
It's too much of a hassle. I won't save money. I don't have time. I'm worried something will go wrong.
Those are the most common reasons people give for sticking with their energy supplier, even if there are far better deals out there.
The reality is that it isn't so difficult, or time-consuming or painful, and changing tariffs can save you around £300 on your annual energy bill.
But what's the most painless way to switch?
An easier way
The most common way to switch electricity energy supplier is by using a price comparison site where you can usually find a good deal and save some money.
You generally enter your details online and are presented with a selection of tariffs to choose from.
It's always advisable to check several comparison sites, and bear in mind that not all comparison sites show all of the tariffs available to you. This means they don't necessarily provide peace of mind that you're definitely getting the best deal for you. But don't let this put you off switching altogether, as there are other ways.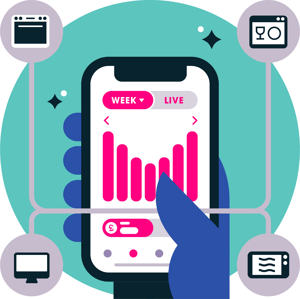 Why it's easier with Loop:
Loop allows you to monitor and understand how you use electricity and then helps you to make smart decisions about using less of it. It will show you all the available tariffs - the so-called 'whole of market' - including better value options with your own supplier. We'll also enable you to filter your search to say whether you want, for example, a green energy supplier or whether or not you have a preference for a larger energy supplier.
Trust
Some people simply don't trust the switching process, and don't believe they'll actually get a better deal.
Research by energy regulator Ofgem showed that 26% of people fear their bills will go up if they switch to a new tariff, while 18% worry they might not save as much as they thought. Others fear they might get charged twice – by both their old and new energy suppliers – or that they'll have their energy supply cut off while they switch. There are also concerns that their new supplier might go bust.
Thankfully, none of these fears are likely to be borne out.
Why it's easier with Loop:
Our switching process is accurate and personalised. All of our calculations and suggestions are based on your actual electricity usage data, rather than estimates.
Reminders
Most people would undoubtedly like to have better control over their finances, bills and outgoings. But of course, with busy lives, sometimes some of this just gets forgotten - or shoved aside. For example, Ofgem's research shows that almost all energy consumers are aware that they can switch supplier or tariff, but only less than one fifth (18%) of them actually do it.
It's easy to neglect money-saving tricks like switching energy supplier. Especially if, like 22% of people surveyed by Ofgem, you doubt you'll save enough money by switching, or believe you're already on the best deal.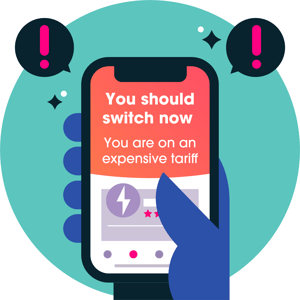 Why it's easier with Loop:
We provide personalised switching prompts, when it's really needed, based on your data and our analysis showing you can save money by switching. So, when you receive one of these prompts, you'll know that it really is time to find a better deal and that your precious time won't be wasted.
Reliable ratings
Out of the frying pan and into the fire? Whether its home energy supply or banking, even if people aren't happy with a service, or are paying over the odds for it, it's common to stick with the devil you know, rather than switch to something better. After all, how do you know your new supplier won't be even worse?
Why it's easier with Loop:
We understand you don't choose a new energy supplier on cost alone; you also want a company that is reliable and offers good customer service. So, we use independent supplier ratings provided by Citizens Advice Bureau, which incorporate complaints handling data alongside other performance measures.
• • •
With Loop, you can find out how you use electricity, then make smart decisions about using less - click here to find out more. We have a risk-free, no-quibble, money-back guarantee as standard, so what's to lose...apart from some £££ from your bills and some weight from your carbon footprint?
Subscribe
to our regular newsletter below to become part of the Loop community, and receive regular updates to help you make smart decisions about using less energy.