All unit costs and calculations correct at the time of publication.
How do I switch energy supplier?
Switching energy supplier is quick, straightforward and could save you around £300 on your annual energy bill.
But how do you make it happen? Here's a run-through of how to go about switching energy supplier and tariff, avoiding some common pitfalls in the process.
Inform yourself
You'll need to gather together some information to get started.
This includes finding out your energy consumption, usually in kilowatt hours (kWh), for the past year, and how much you are paying. Rest assured, this shouldn't be hard to find. You'll find all the information you need on your latest bill or annual statement. If you don't have this at hand, contact your energy company (click this link for the Ofgem website if you aren't sure who your existing supplier is).
Arming yourself with an accurate figure for your annual energy use is really important. The alternative is to use estimates from energy suppliers and comparison sites, but if you do then you risk getting landed with a collection of radically different quotes that are't directly comparable.
Another key piece of information you need to hand is the name of your current tariff. If you don't enter this properly when using price comparison sites, you may get a quote that assumes you're on your supplier's default or out-of-contract tariff which can overstate your available savings.
The right address
One of the main reasons that first-time switches fail or are delayed is that if addresses are inputted incorrectly or don't match the format used by the switching company's address database, it won't be processed automatically and will require human intervention. This slows things down. The good news is that once you've switched once, you shouldn't run into this problem again. A top tip is to input your address exactly as it appears on your current energy bill.
Compare deals
Before you start shopping around for a new deal, read up on different tariff types and how they could benefit you – see our guide to tariffs here.
Also, consider, what's important to you? It's likely to be finding a cheap deal, but you might also want to prioritise customer service or the green credentials of your new supplier.
The most common way to switch electricity energy supplier is by using a price comparison site, where you can usually find a good deal and save some money.
You generally enter your details online and are presented with a selection of tariffs to choose from.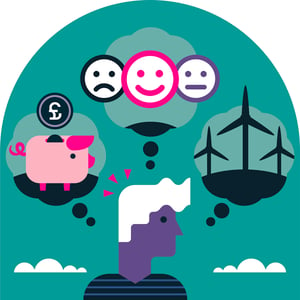 It's always advisable to check several comparison sites, and bear in mind that not all comparison sites show all of the tariffs available to you.
It is important to use impartial comparison sites, ones that are 'Ofgem accredited', meaning they have signed up to a voluntary 'Confidence Code' and offer independent and unbiased comparisons.
Simple, timely and accurate switching with Loop
Loop enables simple and timely switching, based on accurate data. It will show you all the available tariffs - the so-called 'whole of market' - including better value options with your own supplier. We'll also enable you to filter your search to say whether you want, for example, a green energy supplier or whether or not you have a preference for a larger energy supplier. Crucially, all of our calculations and suggestions are based on your actual electricity usage data, rather than estimates.
We provide personalised switching prompts and reminders, based on your data and our analysis, showing when and where you can save money by switching. So, when you receive one of these prompts, you'll know that it really is time to find a better deal and that your precious time won't be wasted.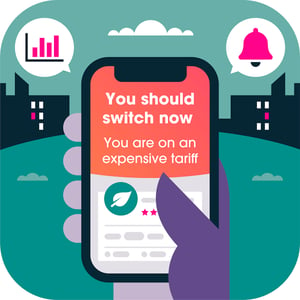 Optimise your switch
To help you choose your energy company and tariff, do the following checks to make sure you're getting the best deal possible and maxing out your savings:
Before you start searching for a new deal, if you're on a fixed contract find out if you'll be charged an 'exit fee' for leaving early. This should be stated on your bill. If you're in the last 49 days of your deal, you don't have to pay this fee.
When you sign up to a new deal, you can usually save money by paying by Direct Debit, but check whether your direct debit will be fixed at the same amount each month, or if it's variable, which means it will change each month to match what you use.
If you use Gas, check to see if you get a Dual Fuel discount.
If you don't need paper bills, you may get a small paper-free discount by receiving your bills electronically.
Some tariffs are only available to customers with smart meters, or if you agree to have one fitted, so check if that's the case.
Is there an upfront payment? Some tariffs require one month's payment before they start supplying your electricity.
Are there special discounts, bundles or rewards? Some companies have attractive onboarding offers BUT make sure these sweeteners don't mask higher unit costs or standing charges, but rather are for something you would have to buy otherwise, factor these into the overall cost when comparing deals.
Check whether your preferred supplier has signed up to the Energy Switch Guarantee, which means it pledges to complete your switch within 21 days.
Does the tariff have a fixed term? If so, check if there's an early termination fee – after all you're a shrewd switcher, so may not stick around for the full fixed term if better deals are available elsewhere.
If you have particular requirements, for example an electric vehicle to charge, look out for special tariffs that might be suited to your needs.
Similarly, if you have electric storage heaters and water heating, make sure you're looking at Economy 7 tariffs so that these energy-hungry overnight activities use cheaper electricity.
Lastly, if you do have a smart meter, it's always worth checking whether it will work properly following your switch. They're meant to but unfortunately this isn't always the case.
Switch to the best energy deal for your needs
When you've found the right deal for you, you have a few ways to switch - obviously we hope you use Loop as switching is just one of the ways Loop pays for itself many times over each year. But you could also use comparison sites or contact your chosen supplier directly through the website or by phone to confirm your contract and how you plan to pay. Whichever method you use, the switching process will then start, and your new supplier will be in touch to confirm your switch-over date.
They'll also notify your current provider that you are moving and send details of your new energy supply agreement for your review.
You have 14 days to change your mind after notifying your intention to switch. If you cancel the switch in this time you will stay with your current provider.
Your new and your current provider will work together and use the same meter reading to make sure you aren't charged twice for the same energy.
Following the switch, your previous provider will send you a final bill no later than six weeks after your switching date. Also, any credit will be refunded.
Switching should be something you do each year, whichever method you prefer - put a date on your calendar or use an energy-saving assistant like Loop to make it super-easy. With £££ on the line, it's always time well spent. You shop around for your petrol, so why not do the same for your energy? Why pay more than you need to?
• • •
With Loop, you can find out how you use electricity, then make smart decisions about using less - click here to find out more. We have a risk-free, no-quibble, money-back guarantee as standard, so what's to lose...apart from some £££ from your bills and some weight from your carbon footprint?
Subscribe
to our regular newsletter below to become part of the Loop community, and receive regular updates to help you make smart decisions about using less energy.