All unit costs and calculations correct at the time of publication.
Price cap rise: why you should take action
This October, a new energy price cap will come into action, pushing household energy bills up by a whopping £139 – around £11.60 extra each month.
---
NB: Information in this article was correct at the time of publishing (20/09/21). The energy market has consolidated through late 2021 and some references in this article may now be out of date.
Due to the energy crisis there are currently no cheap fixed price tariffs to switch to. Normal switching rules do not apply! Stick on a standard variable tariff for now as you are then protected by the energy price cap and wait for cheaper deals to come back on to the market. Loop can still help in two ways:
1. The best way to save money on your energy bill at the moment is to use less energy! On average Loop users cut their usage by 10%.
2. If you sign up to our free smart meter app, we will let you know when better value deals come back on the market.
---
The change in price cap is due to a big increase in wholesale energy prices and while it's not compulsory for energy companies to match the price cap, the biggest suppliers typically do.
Luckily, there are things you can do to avoid paying extra and even make some savings in the process!
What does the energy price cap mean for me?
If you're on a default, standard or out-of-contract energy tariff - either from never switching or from being on an expired deal, then the price cap will affect you. Now's the time to hunt out a better deal. There's never been a better incentive for you to switch! If you're new to switching or just want to know more about the process, clue-up with our guide to switching here.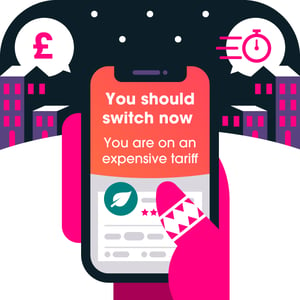 If you're on a fixed deal with a set contract length, then your energy bill won't be affected as long as you continue to switch tariff once your contract has ended.
Switch with Loop
Switching doesn't need to be difficult, complicated or time-consuming. Loop makes switching simple! Put in your tariff details on the Loop app and let us do all the work, from finding the best available tariffs to reminding you when it's time to find a better deal.
All of our calculations and suggestions are based on your actual electricity usage data, rather than estimates.
Filter your search by biggest savings, biggest energy suppliers, best customer service and green credentials. We even show you better value options with your own supplier!
How much extra you'll end up spending depends on the amount of energy your household uses, so it's a good time to become an energy-saving hero! Every bit of energy you save is less you need to spend. Did you know, the average household could save £140 by switching off their standby appliances, while others could save as much as £450! It pays to be energy efficient.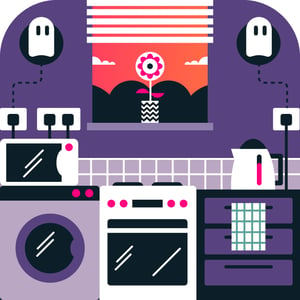 Learn more about some of the top energy-wasting culprits that could be hiding in your home here.
Top tips
1. If you switch now - ahead of 1st October, to a tariff at the rate of the current price cap, it could save you around £102 each year.
2. To avoid any further rising energy prices, it's worth choosing a fixed tariff. This will guarantee the same energy prices until the end of your contract.
3. You don't necessarily have to change your supplier to avoid the price rise. If you're happy where you are, simply find a cheaper deal with them.
Whilst you're switching, why not prioritise moving onto a green tariff?
Going green doesn't always mean it will be more expensive and there are now lots of bigger energy companies that offer green energy tariffs too. Feel good for saving money AND cutting your carbon footprint!
Whatever you decide to do, don't be caught out on 1st October. Take action now so you're not hit with a nasty surprise energy bill.
• • •
With Loop, you can find out how you use electricity, then make smart decisions about using less.
Got a smart meter? Great news! Link the Loop app and enjoy full access to all Loop benefits for free, no purchase required.
Subscribe
to our regular newsletter below to become part of the Loop community, and receive regular updates to help you make smart decisions about using less energy.