All unit costs and calculations correct at the time of publication.
Moving house? How to avoid expensive energy bills in your new home
A garden, plenty of parking and friendly neighbours are normally among must-have features sought out by house-buyers. But energy efficiency should be high up your list of priorities too.
Buy an energy-efficient home and you'll keep your power bills down as well as creating a more comfortable home.
Seeking out an energy-efficient property doesn't mean sacrificing your other home buying priorities. It's just a case of making some simple checks - and perhaps asking a few extra questions - when you view the house. Here's what to do for starters.
Mug up on the Energy Performance Certificate
An Energy Performance Certificate (EPC) is a shrewd home-buyer's best friend. All properties must now have one and you'd be wise to read it from cover to cover.
The certificate shows how much energy the building uses and advises how energy efficient it is. It gives the building a rating from A to G, with A the most energy efficient and G the least.
The certificate also provides an indication of how costly it will be to heat and light a property and what its carbon dioxide emissions are likely to be.
So, read through the EPC very carefully, and if you're not sure about anything then ask the estate agent or owner. If you're deciding between a couple of properties, then it's useful to compare certificates.
Check insulation
As well as using the EPC, you also need to thoroughly check round the house yourself.
Start with insulation. See what there is, what state it's in and where you'll need to spend money yourself in the future. Don't forget the loft as a quarter of heat is lost through the roof in an uninsulated home.
Find out what sort of walls the property has - you may need to ask the estate agent. If it's new, the walls should already be insulated. If the property was built before 1920, then it probably has solid walls (rather than cavity walls) which will be more expensive to insulate.
Also, are the windows double-glazed or triple-glazed?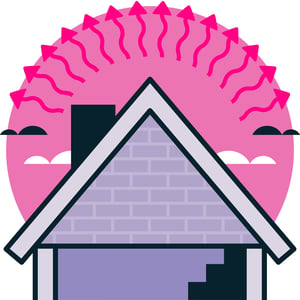 Check the boiler
Heating accounts for about 55% of what you spend in a year on energy bills, according to Energy Saving Trust. Most homes have central heating, and the beating heart of any central heating system is the boiler.
So, it's essential to check the boiler in any potential new home. Find out if it's a regular or combi boiler: a combi boiler, which doesn't need a hot water cylinder, may be more efficient than a regular boiler, which does have a cylinder.
You'll also want to know if it's a condensing boiler, as these are more efficient. All gas-fired boilers fitted after the 1st April 2005, and all oil-fired boilers fitted after 1st April 2007 are condensing boilers. Older boilers are likely to be much more inefficient and could need replacing, at a cost of around £2,000.
It can also be helpful to check when the boiler was fitted and what sort of condition it appears to be in, its servicing history, whether it is guaranteed and if there have been any problems with it recently - you'll need to ask about this one.
Look for green wins
Property listing site Zoopla recommends being "an energy-efficiency spy", looking out for the small things that could make a big difference. For example, old floorboards with large gaps between them will lose heat, while fitted carpets will retain it.
Similarly, it says, look for easy green wins such as energy-efficient showerheads, lagging around pipes, and a cylinder jacket. They'll all save you money.
Does the home already have energy-saving LED lights? Beware that a particularly stingy seller could remove all of these before handing over the keys.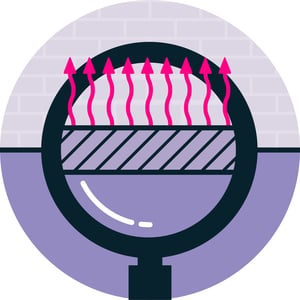 Does it have solar panels?
Solar panels are a great feature to inherit for anyone hoping to reduce their impact on the planet.
Although the government has closed the Feed-in Tariff (FiT) payment scheme to new entrants, in 2020 it is introducing a new system of payments, called the Smart Export Guarantee (SEG), under which people will be paid for excess electricity that they export to the national grid.
Don't be afraid to pry
The important thing is to see as much of your potential new home as possible.
Ask lots of questions - don't be afraid to really push the estate agent for answers. After all, with growing awareness of the importance of having an energy-efficient home, you're not going to be the only home viewer asking these questions.
• • •
With Loop, you can find out how you use electricity, then make smart decisions about using less - click here to find out more. We have a risk-free, no-quibble, money-back guarantee as standard, so what's to lose...apart from some £££ from your bills and some weight from your carbon footprint?
Subscribe
to our regular newsletter below to become part of the Loop community, and receive regular updates to help you make smart decisions about using less energy.