All unit costs and calculations correct at the time of publication.
Energy price guarantee: tips for meter reading day
Thankfully energy costs aren't increasing as much as we all feared, with October's 80% price cap rise being replaced by the energy price guarantee. But let's take a step back - costs were already high and they're going up another 20%. It's a sign of the times that this is seen as good news.
Whether you're on a standard meter or a smart meter, preparing ahead of October 1st when the price guarantee comes into force is essential.
Taking some simple steps like submitting a meter reading on the 30th of September will ensure you're not paying more for the energy you've used. But, understanding your energy bill shouldn't stop there.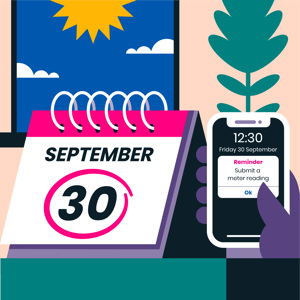 Energy bills are still rising
With a recent survey showing that two in five households wrongly believe the energy price guarantee will limit their bills, it's important to remember that it only limits the standing charge and unit costs, not how much you pay. Use more, pay more. That's why saving energy is key. It also means the energy rebate will cover a higher proportion of your bill too.
With wasted energy contributing to around a third of an average energy bill, it's a simple way to make big savings. This could be costing households as much as £521 annually!
Dr Steve Buckley, Head of Data Science at Loop, says:
"With the cost of energy rising by 20% from 1st October, it's more important than ever to submit accurate meter readings for both your gas and electricity use to your supplier in time.

Take some simple measures now to ensure your household is ready for the price rise and your past usage is locked in at the current price, so you don't end up paying for the energy used now at the higher rate."
Energy Guarantee checklist
These are the simple measures you should be considering on meter reading day - the 30th of September - to prepare your energy bills for when the price guarantee comes into action on the 1st of October.
If you have a smart meter, it may still be worth taking a photograph of your meter with the reading and your meter serial number visible, to provide to your supplier in case of any issues. You should also log into your account to ensure your meter is sending the correct readings through.
If you don't have a smart meter, take a reading and send it to your supplier before October 1st. If that's not possible or your supplier's website crashes on September 30th, take a photo and submit it by emailing or phoning your supplier with the reading. Recording this information makes it clear how much energy you've used ahead of the rate changes allowing you to lock in your past usage so you don't end up paying more at the higher rate.
If you have a surplus credit balance with your supplier, it's worth keeping this in your account to act as a buffer against your rising bill, but ensure you know that's what is happening to avoid an unwelcome surprise when it runs out. If your direct debit payments don't match your usage, spotting this sooner rather than later will help make sure you're not paying too much or too little on your bill.
All households will automatically receive the Government's £400 energy rebate this winter. However, there is

other support available

for eligible households. Don't wait until the bill arrives to seek help.
It might seem like you've run out of options to cut your bill, but using a free energy-saving app like

Loop

to monitor your home energy use can pay off. Simply seeing how much you're using and what it's costing helps you take better control.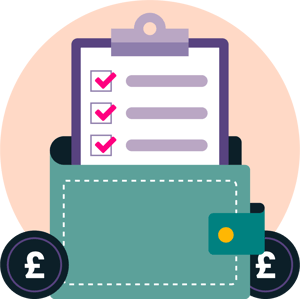 Energy-saving advice
Now it's time to take some simple energy-saving steps to cut your usage. Don't settle for higher bills - you can unlock some substantial savings for very little effort. If you do nothing else before October, consider these three points.
Understand your Phantom Load.

Phantom Load is our name for the energy used by appliances left on or on standby. This could be adding £450 to the average household's energy bill. Start by learning which

energy-hungry devices are contributing towards it, then take action.

Monitor your usage: If you measure it, you can control it!

Simply seeing how much your energy is costing you each day has an impact on how much you use and it will help you spot the ways to reduce it. It's called the "feedback effect". On average, Loop users cut their usage by 10%.

Improve your home's insulation.

Check for draughts and ensure your loft has the recommended 270mm of loft insulation. If it doesn't, for many that will be a relatively easy upgrade that will pay for itself in record time. Heat is expensive, so hold on to as much of it as you can.
• • •
With Loop, you can find out how you use electricity, then make smart decisions about using less.
Got a smart meter? Great news! Link the Loop app and enjoy full access to all Loop benefits for free, no purchase required.
Subscribe
to our regular newsletter below to become part of the Loop community, and receive regular updates to help you make smart decisions about using less energy.