All unit costs and calculations correct at the time of publication.
Beat the energy price guarantee: avoid spending £15 a day on heating this winter
As the Energy Price Guarantee comes into action, this year households will have even more of an agonising decision about when to turn the heating on for the first time and how to keep warm efficiently over the colder months ahead.
With heating accounting for almost 80% of the gas used in homes, making some simple improvements to the way you use and retain the heat in your home can help you save on your rising energy bill.
The average home will spend over £15 per day on gas during the coldest days this winter, so don't wait until the colder winter months, start improving the efficiency of your home now.
1. Turn down your boiler temperature
The majority of UK households are unaware their boiler isn't running as efficiently as it could be. As a result, they're spending more money on home heating than they need to.
Most boilers are designed to send water to your radiators at temperatures under 55°C, but they're often not configured this way. This 'flow temperature' is usually set between 60°C and 80°C instead, which is too high for boilers to operate efficiently.
Dr Steve Buckley, Head of Data Science at Loop, says:
"Lowering your boiler's flow temperature isn't about changing the temperature on the thermostat. Your home's temperature won't change at all. You'll simply allow your boiler to heat your home in a way that saves energy and money.

This one simple setting change will help you save up to 8% on your heating bill."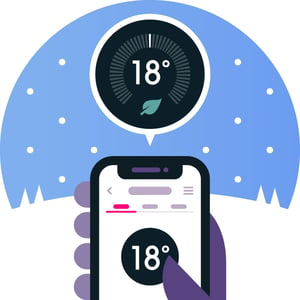 2. Turn down your thermostat temperature.
Thinking carefully about what you can do to stay comfortable at home without turning the thermostat up can pay off. Take some heat-saving steps like wearing more layers, keeping doors closed to keep the warmth in or doing some draught-proofing, and you may be able to hold out a little bit longer.
Dr Steve Buckley, Head of Data Science at Loop, says:
"Turning your heating down is a good compromise to keeping your home warm and saving costs. Aim for between 18 and 21 degrees.

We're often told that turning the thermostat temperature down by 1 degree can make a real difference and it does. Each degree you reduce it to equates to a 10% reduction in gas use. Reducing an average home's thermostat by 2 degrees could save £200 at the new energy price guarantee levels."
3. Only heat the rooms you're using
Many people control their central heating by using a simple timer combined with a thermostat to set the temperature they desire throughout their house. But that means they end up paying to heat rooms they aren't using.
A smart thermostat or smart radiator valves will enable you to control your heating remotely and target the heat towards the rooms you use the most.
Dr Steve Buckley, Head of Data Science at Loop, says:
"Opting for cheaper alternatives to heat individual rooms like portable electric heaters may seem convenient.

However, the cost of running electric heating is significantly higher than the cost of the gas equivalent. We recommend using radiator valves to make sure you heat the right areas of your house to the right temperature. They allow you to use your cheaper gas central heating rather than additional electric heating."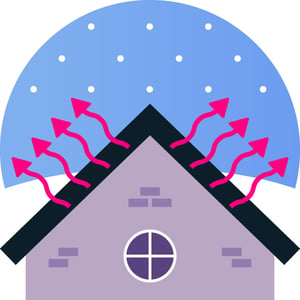 4. Improve your home's insulation
It's critical to ensure your house is well insulated. Use these warmer months to check for draughts and ensure your loft has the recommended 270mm of loft insulation. If it doesn't, for many that will be a relatively easy upgrade that will pay for itself in record time. Heat is expensive, so try and hold on to as much of it as you can.
Dr Steve Buckley, Head of Data Science at Loop, says:
"Insulating pipes can be an easy way to reduce heat loss, and you can do it yourself too. Depending on the size of your house, you'll only need to spend around £20 on foam lagging, which you'll soon make back. Lagging also reduces the chances of pipes getting too cold and bursting during colder months."
5. Find support available to you
If you're worried about how you're going to pay your energy bills, don't wait until the bill arrives to seek help. Now's the time to find out the support that's available to you.
Dr Steve Buckley, Head of Data Science at Loop, says:
"There's no doubt that the rising cost of energy bills is scary for consumers, but there are still things people can do to save. Free third-party apps like Loop can unlock your smart meter data to show you how your household uses energy and the ways to reduce it. We tell you if your usage is low, medium or high and whether you're using more or less than in the past, so you can stay in control of your energy use."
• • •
With Loop, you can find out how you use electricity, then make smart decisions about using less.
Got a smart meter? Great news! Link the Loop app and enjoy full access to all Loop benefits for free, no purchase required.
Subscribe
to our regular newsletter below to become part of the Loop community, and receive regular updates to help you make smart decisions about using less energy.