All unit costs and calculations correct at the time of publication.
Smart homes: how to create a connected home
There are plenty of good reasons to create a smart home. They can save you energy and money, are more convenient as you can keep connected wherever you are, and they can give you peace of mind when you're out and about.
But how do you go about creating a connected home that will give you all of these benefits? Here's our beginners' guide to get you started.
Create a smart ecosystem
First, you need to make a decision on how you're going to control your smart home. This means, in the jargon, choosing your 'ecosystem' to connect and control your compatible smart devices.
There are several ways to control your smart home products:
An app on your smartphone - such as Google Home, Samsung SmartThings or Apple Home. These all have the benefit of being free
A smart speaker, such as Amazon Echo or Google Home
A smart display, such as the Google Nest Hub and Amazon Echo Show
Making the choice between Google, Apple, SmartThings or Amazon (or another) will affect which smart home products you can use, although many are compatible with multiple ecosystems. To find out, check the wording on the smart home products you're looking to buy.
Once you have chosen you ecosystem, you can start creating your smarter home.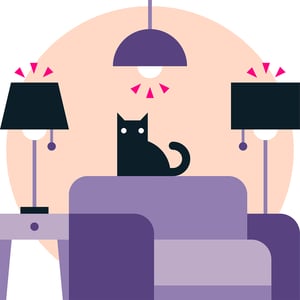 Smart lights
One of the most common, easiest and cheapest ways to start creating a connected home is with smart lightbulbs.
Why? Depending on the type of smart light you have, you change the tone or colour of the bulb, dim the lights or turn lots of lights off in one go. They also have the advantage of being energy-efficient LEDs, so cost much less to run than the traditional bulbs you may be replacing.
What should I buy? Tech Advisor recommends Philips Hue lightbulbs. There's a starter kit including three colour-changing bulbs along with the hub you need to control them.
If you don't want another box to plug in though, there are WiFi bulbs available on Amazon that connect directly to your wireless network and can be controlled through their own app or via your chosen smart home control method.
Smart doorbells
Smart doorbells, equipped with cameras, allow you to see who's at your door without opening it. As well as the usual ding-dong (other sounds are available), they'll alert you on your phone and provide video surveillance and recording. They also enable you to speak to visitors.
Why? Connected doorbells are not only convenient, enabling you to tell the delivery man to leave your parcel behind the bins, but can help keep you safe as you can check who is at the door before opening it.
What should I buy? Among top picks from Expert Reviews is the Eufy Video Doorbell.
Smart plugs
Here's another good starting point for smart home converts. Smart plugs enable you to turn your existing 'dumb' devices into smart ones that you can control by voice or app.
Why? Smart plugs enable you to set timers for your appliances, schedule lights to turn on or off, and much more.
What should I buy? T3 recommends the TP-LINK KASA MINI KP105, which it says is compact and reliable and comes with a great app.
Smart locks
These work nicely in conjunction with smart doorbells. You can unlock your door from your smartphone, see who has locked or unlocked your door, and send regular guests ekeys to give them access to your home.
Why: They can improve your home security and are helpful if you need to let people in while you're not at home. But they're not cheap, usually costing hundreds of pounds.
What should I buy? Among picks from Tech Radar is the August Smart Lock Pro, which sits on the inside of your door, meaning its nice and discreet.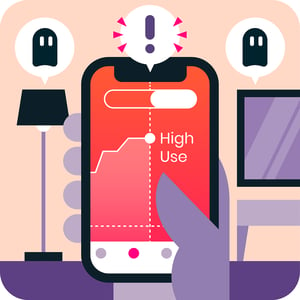 Smart energy monitoring
One of the most compelling reasons to create a connected home is to take better control of your energy use. Start with Loop, which enables you to find out how you use electricity, then make smart decisions about using less. Loop could work well as a first, independent foray into creating a smart home, as unlike the other technologies, rather than integrating with the other ecosystems, it serves as a stand-alone smart option, which can be monitored remotely.
Why? By better understanding how and when you use energy in your home, you'll be able to cut down your usage – good news for the environment, and your bills.
What should I buy? At the moment, nothing! Instead, you can sign up for your 90-day free trial with Loop here.
Smart thermostat
With a smart thermostat, you can control your heating from your smartphone. You can turn your heating on or off, change the temperature and more.
Why? Smart heating controls can save you money in the long term and reduce your impact on the environment. According to Energy Saving Trust, those savings could, on average, amount to £60 and 310kg of carbon dioxide each year (based on installing and correctly using a programmer, smart thermostat and thermostatic radiator valves).
What should I buy? There's a huge choice of smart thermostats, so it requires some research. For beginners, the Nest Learning Thermostat (3rd Generation) is among the simplest to use on the market, according to Tech Advisor.
Beyond the basics
It doesn't stop at heating and doorbells - you can go much further in the pursuit of the connected home.
It depends what takes your fancy… how about a smart coffee machine or kettle? A smart baby monitor and bathroom scales? The choice is endless.
• • •
With Loop, you can find out how you use electricity, then make smart decisions about using less - click here to find out more. We have a risk-free, no-quibble, money-back guarantee as standard, so what's to lose...apart from some £££ from your bills and some weight from your carbon footprint?
Subscribe
to our regular newsletter below to become part of the Loop community, and receive regular updates to help you make smart decisions about using less energy.