All unit costs and calculations correct at the time of publication.
Should you get a smart meter? Here are the pros and cons
It's not compulsory at the moment to get a smart meter, but with government targets closing in – the UK's target is for all homes to have a smart meter by 2025 – there can seem like a lot of pressure to make the switch.
On one hand, they've been hailed as the future of smart energy, they're helping people to save money and better protect the environment; on the other, they have suffered some teething pains which have frustrated users and given them a bad reputation.
But, before you make your mind up on whether you should get a smart meter, weigh up the pros and cons so you can make an informed decision.
Wasted energy makes up 30% of the average energy bill - do something about it! Get more from your smart meter with Loop.
What is a smart meter?
A smart meter is a new generation of gas and electricity meters that are aimed at better monitoring the energy demands from homes and businesses. At the moment this can't be accurately measured, so a lot of energy goes to waste. However, as we transition to cleaner energy sources and as more people adopt electric cars, a more flexible energy system is needed to actively manage supply and demand.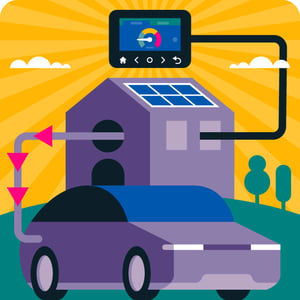 How to get one
So far, around 29.5 million smart meters have been installed in homes and small businesses across the UK. You can either wait for your energy supplier to contact you about arranging your smart meter installation or you can request one yourself by contacting your supplier.
It's free to have one installed and you get a piece of tech too - a small digital display called an in-home display (IHD) that links to your smart meter and shows your live energy use in cost and energy usage. The IHD is given to you at the time your meter is installed and can look different depending on which energy supplier you're with.
Pros
1. Access a wider selection of energy tariffs
Smart meters give you access to a broader range of tariffs, including specific tariffs for EV users and those with solar panels. Plus, you can access some of the cheapest deals on the market too.
2. No more monthly meter readings
Readings are sent straight from your smart meter to your supplier, without any intervention required from you. Automatic meter readings are much less hassle!
3. See the energy you're using in real-time
It may sound simple, but seeing what you're using and how much it's costing you can cut the amount of energy you use. It's called the "Feedback Effect" and most homes can easily cut their electricity usage by 5%! See this information on your free IHD.
4. Get accurate bills
Say goodbye to estimated bills! A smart meter will help you avoid any inaccurate bills and you will always be billed for only what you use.
5. Reduce your environmental impact
Installing a smart meter won't in itself reduce carbon emissions. But it's one element of a smarter grid, and a smarter grid could lead to faster adoption of electric vehicles, electric heating, and smart appliances - all powered by cleaner, greener electricity.
6. Make use of free tech
With no cost for the installation or the IHD, having a smart meter is a great way to get hold of a free bit of tech. Especially when you link it with Loop. Unlock all the benefits that you otherwise wouldn't be able to access! Track your usage so you know exactly how much you're using and what it's costing you, get access to smart insights like how much you've spent today vs this week, see how your usage compares against other households, test how solar could work for your home, and more...all for free!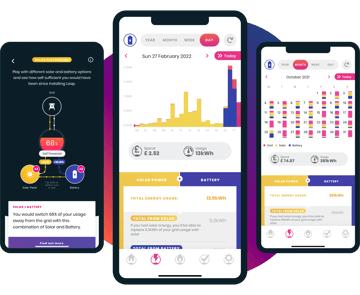 7. Future-proof your home
If you're thinking of installing solar panels you'll want to do it as cost-effectively as possible, which is where the Smart Export Guarantee comes in. To be eligible you need a smart meter to make sure your energy supplier receives accurate readings on the energy your solar panels export, so you can get paid correctly.
Cons
1. Older smart meters can become 'dumb'
One of the main reasons smart meters get a bad rap is from the first-generation smart meters which lost functionality when customers switched energy tariffs. In these cases, the IHD would stop working and become 'dumb' which meant customers still needed to give manual meter readings.
However, second-generation smart meters have since addressed this problem so you should be able to switch energy suppliers without any interruption to your energy readings, bill payments, or gas and electricity supply.
2. They can't reduce your bills alone
Smart meters can be a helpful starting point for anyone seeking to improve their energy efficiency and save money. However, a smart meter won't save you money on its own, it's just an energy monitor. If you want personalised insights and greater support for your energy-saving ambitions - including personalised data recommendations - then linking your smart meter to a free energy-saving app like Loop is the next step along.
3. Privacy concerns
Whilst there are some concerns that personal energy usage data could be passed to third parties, there are currently laws in place prohibiting energy suppliers from sharing this information without consent from the customer.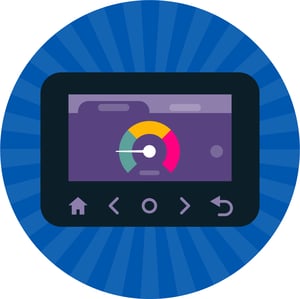 4. Technical faults
Like all technology, things can go wrong. However, rest assured that if you do get a technical fault and your smart meter can no longer give automatic readings, then you can go back to giving manual readings until it's fixed.
5. IHD life-span
Smart meters need replacing every 10 years, which can seem like a hassle if you've never thought twice about replacing your traditional meter. But with all the added functionality and technology, installing a smart meter can still be worthwhile.
6. Hidden costs
While it's free to have a smart meter installed, the full cost of the smart meter rollout is ultimately recouped by all billpayers through higher energy bills. With the full cost of the smart meter rollout over £11bn, this could work out at £374 per household.
Now you know the arguments for and against, will you be rushing to book your smart meter installation?
As with all new technology, improvements are made all the time to increase efficiency and smart meters are no different. But ultimately, if you're looking to future-proof your home, cut your carbon footprint and reduce your energy bills, then installing a smart meter is a great first step.
• • •
Cut your energy bill with Loop
Loop is a FREE energy-saving app that links to your smart meter, analyses your energy use and shows you easy ways to save. On average, Loop users cut their electricity use by 16% and their gas use by 10%! How much could you save?
Subscribe
to our regular newsletter below to become part of the Loop community, and receive regular updates to help you make smart decisions about using less energy.