All unit costs and calculations correct at the time of publication.
Energy Saving Advice - Part 3: Big Energy Savers
If you're looking to save big on your energy bills, there are some larger long-term investments you can make.
Measures like improving your home's insulation, upgrading to energy-efficient appliances and installing solar panels may require a bigger financial commitment upfront, but they can provide significant savings on your energy bills and your carbon impact in the long run.
Wasted energy makes up 30% of the average energy bill - do something about it! Get more from your smart meter with Loop.
Increase your insulation
Ensuring your home has the recommended insulation should be top of your list of home improvements. An uninsulated home loses around a third of all heat through the walls and a quarter of heat is lost through an uninsulated roof.
Although adding cavity wall and loft insulation comes at a cost, these are two insulation measures that pay themselves back quickest and the savings can quickly add up on your energy bill as you keep hold of more of the warmth you're paying for.
While many homes have already implemented these measures, millions still lack proper insulation. Check your loft to see if you have at least the recommended 27cm of insulation. If not, you can top up yourself or pay a professional to do it for you.
Want to see how much your home could save? The Energy Saving Trust have estimated installation costs, energy bill savings and carbon savings for different homes here.
The UK government plans to contribute to the mission of making homes more energy-efficient through the new Great British Insulation Scheme (GBIS), offered by suppliers. Launched in April 2023, it aims to insulate 400,000 homes a year over the next three years. The scheme will focus on delivering improvements to homes with an EPC rating of D or below in Council Tax bands A-D in England, or A-E in Scotland and Wales.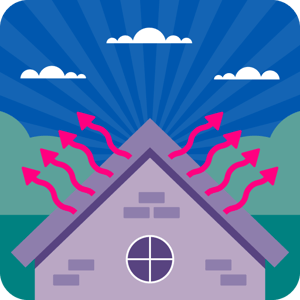 Would solar work for you?
With solar, it pays to think long-term - considering both the energy crisis and the climate emergency. With an uncertain outlook, solar is a good investment to get back some energy security, future-proof your energy bill and cut your household's carbon emissions.
Often the main reason households install solar is to cut their carbon footprint as a typical array can save 1.6 tonnes of carbon emissions each year. However taking green measures, like installing solar panels and getting an electric vehicle, can now also make sound financial sense due to rising energy costs.
Even without considering solar, it's sensible to be as energy-efficient as possible as that means lower bills and lower environmental impact. In the context of solar, it means that solar will cover more of your electricity requirements.
Changing your lifestyle habits can also help. Doing high-energy tasks during the day, like running the washing machine, will help you make the most of the energy you generate. If you have an EV but don't have an EV tariff with cheap overnight charging, then your excess solar energy also means free mileage in your car. If you do have an EV tariff though, you're better advised to charge at cheap rates overnight and make full use of your solar elsewhere during the day.
Want to test solar before you invest? Try Loop's Solar and Battery Simulator. Using your energy data, details about your house, and weather information, we can show you the actual difference solar power could make to your monthly bills and reliance on grid energy. Find out if it makes sense for you.
Upgrade to energy-efficient appliances
Investing in energy-efficient appliances can provide significant benefits for both the environment and your wallet - without requiring as much of a financial investment as solar and insulation.
They consume less energy, often have a longer lifespan, and may require less maintenance as they're typically higher-quality items.
When you're in the market for a new appliance, check out its energy label. It shows you how much energy the appliance uses compared to similar models. Look for the highest rating on the A-G scale, or A+++ to G scale for older models.
Also, consider the size of the appliance, as different sizes with the same rating could use varying amounts of electricity. Always opt for the product with the best energy rating for the size you need.

Next Steps
Before taking these big measures, make your home as energy efficient as possible.
Start with our guide Part 1: Low Effort, High Reward Actions and see which big changes you should make if you do nothing else on your energy-saving journey.
Then, take the next step with Part 2: Appliance Efficiency.
• • •
Cut your energy bill with Loop
Loop is a FREE energy-saving app that links to your smart meter, analyses your energy use and shows you easy ways to save. On average, Loop users cut their electricity use by 16% and their gas use by 10%! How much could you save?
Subscribe
to our regular newsletter below to become part of the Loop community, and receive regular updates to help you make smart decisions about using less energy.