All unit costs and calculations correct at the time of publication.
How green is my washing machine? Using energy efficiency ratings
If you buy a new fridge, washing machine or other home appliance, you'll see they have nice, clear labels showing how efficient they are compared to other products.
The labels provide a simple colour-coded rating from G, for the least energy efficient products, up to A+++, indicating the most energy efficient on the market.
The result is that it's easier for you to choose a machine that will save you money on your household energy bills and reduce your greenhouse gas emissions. The Europe-wide ratings also encourage manufacturers to innovate by using more energy efficient technologies.
The UK government gives the following examples of savings by choosing the top-rated A+++ rated machines:
Washing machine: save around £5 each year compared with an A+ rated one
Tumble dryer: save around £46 each year compared with a C-rated one
Fridge: save about £190 over the lifetime of the product compared with an A+ ones
Electric oven: use 60% less energy than a B rated one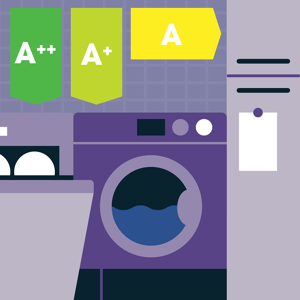 However, while the labels help you to quickly get an idea of a machine's efficiency, you do need to consider size: choosing the wrong sized machine could cancel out any savings. So this means, for example, that a smaller A rated fridge could use less energy than a large A+ rated fridge. Similarly, be practical: if you buy a large A+++ rated dishwasher, but don't fill it up properly, you'll waste electricity.
To help you navigate the labels and get to grip with the annual costs of running an appliance, the Top Ten UK website is a great place to start.
Change is coming
All of those plus signs can get a bit hard to read and navigate. So, changes are coming in 2021, to reintroduce the simpler A to G scale.
The change is also intended to reflect increased innovation in energy efficiency. Existing products will be shifted down the rankings to make space at the top. So, an A+++ energy efficiency product could for example become a class B, without any change in its energy consumption.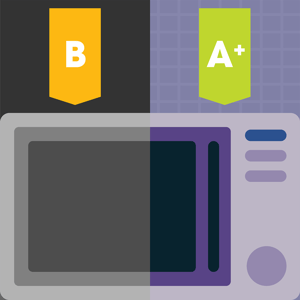 Appliance repairs
Along with the changes to the energy efficiency rankings in 2021, separate rules are to come into force to ensure that new appliances are easier to repair and longer-lasting.
The European rules - which British firms will have to follow if they want to sell into Europe after Brexit - will apply to lighting, displays, washing machines, dishwashers and fridges.
They'll have to meet minimum repairability requirements aimed at extending their lifetime.
It's hoped the legislation will mean appliances are changed less frequently, meaning fewer need be manufactured, reducing waste, while consumers save money.
• • •
With Loop, you can find out how you use electricity, then make smart decisions about using less - click here to find out more. We have a risk-free, no-quibble, money-back guarantee as standard, so what's to lose...apart from some £££ from your bills and some weight from your carbon footprint?
Subscribe
to our regular newsletter below to become part of the Loop community, and receive regular updates to help you make smart decisions about using less energy.