All unit costs and calculations correct at the time of publication.
Getting to grips with eco-anxiety
Do you believe that you, on an individual level, can help stop climate change? Or do you despair that the planet is heading towards oblivion and you're too small to make a difference?
The answer could really matter. A study by researchers at the University of Warwick found that if you believe you can stop climate change through your own individual actions, such as turning the thermostat down, then you are more likely to make a difference.
On the contrary, a feeling of climate change helplessness makes people less likely to bother taking individual eco-friendly actions. The result is higher energy consumption, the researchers found.
Rise of eco-anxiety
Of course, it's not always easy to feel optimistic about your own impact on the environment.
If you do find yourself despairing over the climate, then rest assured, you're not alone.
There's even a name for this "chronic fear of environmental doom", as the American Psychological Association puts it: eco-anxiety or climate anxiety.
There are no concrete statistics available on the extent of eco-anxiety in the UK, but consider whether you have experienced any of the symptoms identified by Environmental researcher Panu Pihkala: "At one extreme are the serious symptoms, such as shock and fear, which often have psychophysical manifestations, including sleep disorders and physical discomfort. At the other extreme there are less severe symptoms, such as melancholia and restlessness," he says.
Alarming news
Mary-Jayne Rust, an eco-psychologist, has noticed an increase in people's awareness of climate change and ecological crisis. She points to triggers in the news including David Attenborough's recent programme on climate change and protests in London.
"With all this information it means that people are rightly very anxious about the situation we face", she says.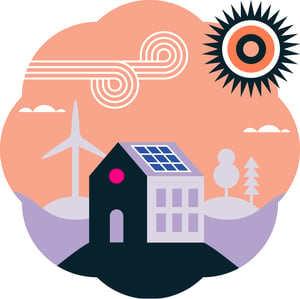 Who does it affect?
Eco-anxiety can affect anyone, young or old, male or female. "I think younger people are very anxious about it because it's their future that will be affected", Mary-Jayne says, adding: "But parents are also very anxious about their children's futures, and about how to talk to their children about it."
Panu suggests that people who are in close contact with ecosystems may be particularly affected by eco-anxiety: "These individuals include farmers, professional fishermen, hunters, indigenous peoples and nature lovers".
What can you do about it?
Anxiety over the environment will affect people in different ways. Some anxiety, Mary-Jayne says, is healthy given the gravity of the situation. She advises the following:
Find like-minded friends to talk with.
Set up a regular support group, where you can share your feelings and discuss actions.
Find things to do which are calming and soothing, such as walking, sitting in nature or meditation.
Join a community action group.
This may not suffice for more serious cases of eco-anxiety. Mary-Jayne says: "If someone is suffering from eco-anxiety which is stopping them from coping with life then they need to seek help from a therapist."
Back to the University of Warwick for a last word. Dr Jesse Preston from the Department of Psychology summed up: "It is vitally important that individuals appreciate the impact and value of their own actions for us to make a meaningful change as a whole."
• • •
With Loop, you can find out how you use electricity, then make smart decisions about using less - click here to find out more. We have a risk-free, no-quibble, money-back guarantee as standard, so what's to lose...apart from some £££ from your bills and some weight from your carbon footprint?
Subscribe
to our regular newsletter below to become part of the Loop community, and receive regular updates to help you make smart decisions about using less energy.