All unit costs and calculations correct at the time of publication.
Electric cars: what if you don't have a driveway?
Sometimes, however hard you try to reduce your impact on the environment, other concerns – whether they're about practicality or uncertainty about the effectiveness of your plan - get in the way. So, you end up doing nothing.
You might, for example, be considering shifting to an electric car as you know they're better for the environment. But you may be put off by concerns – and occasional misinformation – about costs, charging and so-called range anxiety.
One of the questions would-be electric car drivers might ask is: how do I charge my vehicle if I don't have a driveway or live in a flat?
Charging options
Charging an electric vehicle (EV) at home, using a dedicated home charging point, is generally the most convenient way to go. Read this guide to find out about how much charging an EV will cost compared with fueling up a petrol or diesel car.
But that still leaves lots of people out. This is especially true for city dwellers: in London only 48% of off-street drivers have access to parking, according to PwC.
So, what's the solution?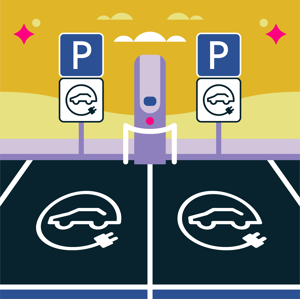 Charge elsewhere
Though installing your own charge point and using that to charge overnight will likely be your most convenient and cheapest option, it's not the only one.
Consider, for example whether your workplace has charging points. If so, this might be a free and convenient way to top up each day. If there's no charging point at your office, look into the government's Workplace Charging Scheme, which offers financial support for businesses and other employers to have charge points installed at their premises.
Also, could you use a public charging point, for example, at a supermarket or car park? These are normally free, but slower. As a starting point, try out this map of public charging points.
Some local authorities are acting to help meet this demand. Brighton & Hove City Council, for example, announced in October that it would install more than 200 new electric vehicle charging points over the next few months, including 30 mandatory Electric Charging spaces, driven, it said, by "requests from residents who own or are thinking of buying electric vehicles but have no off street parking available".
Another way of charging is by using a rapid charging point. These are found at motorway service stations and can charge an EV to 80% in around 30 minutes. But they are more expensive.
These options aren't necessarily do-able or convenient for some people. So, what other options are there?
Lamp-post charging
The technology and infrastructure for electric vehicles is evolving very quickly. New solutions are being developed to enable more people to charge EVs, and these are being trialed throughout the UK.
In July, the government announced it was investing almost £40m into projects designed to transform electric charge point infrastructure.
One solution that's already being trialed in some UK cities are using charging points installed inside lamp-posts.
There are reportedly already over 1,000 charge posts installed to lamp-posts on residential streets in London alone. Other cities testing out the technology include Brighton and Dundee. Converting a lamp-post into a charger is said to cost around £1,000.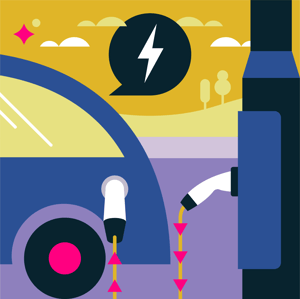 Ask your local authority to fit one
You can write to your local authority to request that they install a charge point in your street.
The government has set aside a £5m pot (for 2019-20) to help fund vehicle charging infrastructure for those who do not have access to off-street parking. The government department will pay up to 75% of the costs of installation. Councils must fund the remaining 25% of the costs.
If you're successful, the charge points could be stand-alone or an existing lamp-post could be adapted.
Wireless and pop-up charging points
Converting lamp-posts into charging points isn't the only solution being considered.
Wireless charging pads: a pad is installed on the underside of an electric car that can be aligned with pads buried beneath the road surface, allowing cable free charging as electricity passes to the car via induction. A company called Char.gy is helping with trials of this tech in London and Milton Keynes.
Pop-up charging hubs: these are built into the pavement and rise up to provide a charging solution for electric vehicle drivers without access to off-street parking. Plans were unveiled in the summer for Urban Foresight, a smart city consultancy, to trial up to 18 of these hubs in Dundee and Plymouth.
Battery swapping: several start-up companies are trying something entirely different: battery swapping. Billed as quicker and more convenient than charging, you drive up to an automated public battery swapping station, and while you wait in your car, your drained battery is quickly replaced by a fully charged spare.
Gazing a little further into the future, once cars are fully autonomous, they could simply drive somewhere else to charge overnight, when you're sleeping.
While fully autonomous cars might not be widespread for some time, it seems that it won't be long before the UK's electric vehicle charging infrastructure can cater for everyone.
• • •
With Loop, you can find out how you use electricity, then make smart decisions about using less - click here to find out more. We have a risk-free, no-quibble, money-back guarantee as standard, so what's to lose...apart from some £££ from your bills and some weight from your carbon footprint?
Subscribe
to our regular newsletter below to become part of the Loop community, and receive regular updates to help you make smart decisions about using less energy.