All unit costs and calculations correct at the time of publication.
Clickbait Solar Deals: The 5 red flags you should avoid
With the growing concern over energy prices and the pressing need to combat climate change, many UK homeowners are exploring the idea of installing solar panels on their homes. Solar energy has gained popularity for its ability to reduce carbon emissions and lower electricity bills. However, there's a dark side to this sunny industry: an alarming rise in online scams.
Wasted energy makes up 30% of the average energy bill - do something about it! Get more from your smart meter with Loop.
Why you should be wary of 'too good to be true' solar deals
Data from Action Fraud shows that online solar scams have increased by 50% in the last year, a trend spurred on by the rising popularity in solar power. The government currently estimates that 230,000 installations will be made this year, raising the number of solar panels on roofs from 1.24m to 1.47m.
A typical household using 4,000kWh will save £550 in their first year investing in solar, equating to a potential £15,500 in savings over a 25 year period. With this increase, scammers are preying upon potential customers looking to make good by their purses and the planet.
So, approach 'too good to be true' solar schemes with caution. This click-bait is designed to lure you in over unrealistic 'freebie' schemes that don't exist.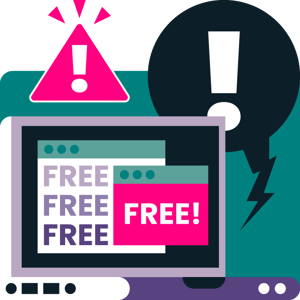 How to detect a solar scam
From October, a typical household will pay £1,923 a year for its gas and electricity bills. The average domestic solar panel system is 3.5kWp and costs around £6,000. This means if a scheme is offering a solar panel system for less, it could be a scam.
Loop's Energy Doctor, Dr Steve Buckley, says:
"With uncertainty over future energy prices, changing demands for electricity due to electric vehicles and heat pumps, and the urgency to cut carbon emissions, the benefits of solar are undeniable.

"A great way to evaluate the impact of solar on your home is with a tool like Loop's free in-app Solar Simulator. Using your energy data, details about your house and weather information, this feature allows households to test how solar panels and a home battery could work, showing the actual difference it could make on your monthly bills and self-sufficiency.

"Working with trusted industry partners, Loop can also help households continue their solar journey to installation.

"Don't be put off by misleading online schemes, as solar panels can offer households great savings. It's important consumers keep an eye out for click-bait claims, and most importantly, do their research. We are always on hand to support our customers, especially when it comes to understanding energy savings."

The Energy Doctor's 5 red flags for solar deals and tips for how to avoid them:
Deals that sound too good to be true:

Unfortunately, most of them are. A quick Google search will return many amazing sounding grants and deals for fast solar installation but many of these are unlikely to be true. It's best to do your own research about reputable brands and websites before making the leap.

Spam emails offering deals:

Emails offering cheap or free installation are often phishing - emails offering government schemes or cheap panels may take you to seemingly official websites. The incredible deals offered rarely exist, so save the stress by approaching these deals with caution.

Online ads offering free installation:

Though these aren't all necessarily scams, they can be misleading. Find out first what the caveats of these kinds of deals are before clicking buy.

Misleading online ads:

Some adverts may offer you free or discounted health checks. Solar panels should be checked every few years but this should be done by the company who installed the panels. These companies offering free checks will often be trying to sell you something that you don't need!

Emails claiming your existing panels or inverter needs changing:

If you have panels installed already, you can check that they are producing electricity by checking your generation meter. If you have any concerns about your solar panels, contact the company who installed your panels directly as most are covered under a warranty.
3 smarter ways to invest in solar:
Install a home battery:

Installing a home battery at the same time as the panels means that you will qualify for 0% VAT. If you install the battery at a later date, the VAT will rise to 20%.

Time it right:

If you're having work done to your roof that involves scaffolding and you're also considering solar, it will save you money to do both at the same time. Putting up scaffolding can be expensive, costing almost £900 a week, so avoid paying this twice.

Try before you buy:

If you're considering solar panels and a home battery, but don't want to invest before understanding the impact on your home - use a solar calculator like Loop's free in-app

Solar Simulator

. This will give you the personalised savings and self-sufficiency calculations needed to make an informed decision.
• • •
Cut your energy bill with Loop
Loop is a FREE energy-saving app that links to your smart meter, analyses your energy use and shows you easy ways to save. On average, Loop users cut their electricity use by 16% and their gas use by 10%! How much could you save?
Subscribe
to our regular newsletter below to become part of the Loop community, and receive regular updates to help you make smart decisions about using less energy.