All unit costs and calculations correct at the time of publication.
How much is your hot tub costing you?
Many of us will be enjoying the warm weather outdoors in our gardens this summer, and for those lucky enough to own one, relaxing in a hot tub is a welcome treat on a sunny day.
But did you know, an inflatable hot tub could be racking up an extra £360 a month on your energy bill? That amounts to £1,440 in four months over summer!
With the high cost of living, understanding the running costs of your things has never been more important. Some things could be adding a lot more to your bill than you might be expecting.
Wasted energy makes up 30% of the average energy bill - do something about it! Get more from your smart meter with Loop.
Garden energy-wasters
Energy efficiency isn't just about the things you use inside your home - it's important to consider how much some of your outdoor equipment could be adding to your energy bills too!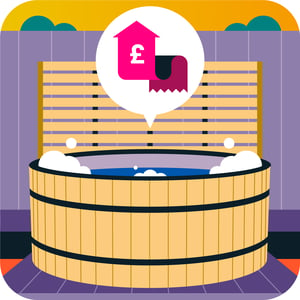 Our research found that hot tubs are one of the worst garden culprits for adding to energy bills. The cheap, inflatable hot tubs cost five times as much as more energy-efficient models. But even a more energy-efficient hot tub that uses 7 kWh per day could add £72 per month to energy bills. This is 20% higher than last summer and a huge 90% higher than in summer 2020 when many people bought hot tubs during lockdown.
Steve Buckley, our Head of Data Science, says:
"Many of us will have seen offers on inflatable hot tubs recently and are considering investing in one. Whilst relaxing in a hot tub is a welcome treat on a cool summer's night, these hot tubs may not be the bargains they seem.

"With the current high cost of living, people should be aware that the cost of running one of these could be a lot more than they were expecting.

"Our new research found that hot tubs are one of the worst garden culprits for adding to energy bills. Even the most energy-efficient tubs will cost £72 per month to run.

"But the biggest risks are for those households who buy cheap hot tubs. Due to poor insulation these could easily cost FIVE TIMES that amount to run, that's as much as £360 per month.

"The problem is that households won't have any idea of the high running costs until their bill arrives. If you are planning to use a hot tub over summer, don't get taken by surprise when the electricity bill arrives as by then it's too late.

"You'll be able to see the impact of hot tubs and other appliances on your energy bill by keeping a track of your usage using Loop, a free app that links to your smart meter and analyses your energy data. By tracking usage and costs, you can avoid the dreaded "energy bill shock".

"If you use a lot of energy, for example because of a hot tub, an electric vehicle or electric heating, it's definitely worth considering solar. Payback has never been faster and you can 'try before you buy' using our unique solar simulator in the app that shows you just how much of your energy use could be covered by solar, with or without a home battery".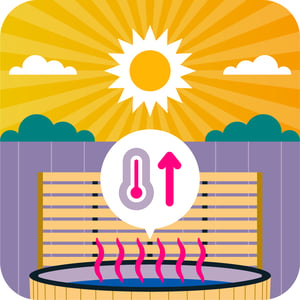 5 Easy ways to keep hot tub energy costs down
Reduce your thermostat by a couple of degrees to help save money but still maintain a comfortable water temperature.
Cover the hot tub with a thermal cover when not in use to keep the heat in.
Think about where you position your hot tub. Keeping it away from wind and breezes, which would cool the water, will help maintain a warmer temperature.
For long-term hot tub converts, installing solar panels might be worth considering as a permanent way to cut your energy bills. The free Loop app includes a unique solar simulator that shows if solar would be a good option for you, with accurate savings and self-sufficiency calculations.
Don't get taken by surprise - keep track of costs using a smart meter app like Loop.
• • •
Cut your energy bill with Loop
Loop is a FREE energy-saving app that links to your smart meter, analyses your energy use and shows you easy ways to save. On average, Loop users cut their electricity use by 16% and their gas use by 10%! How much could you save?
Subscribe
to our regular newsletter below to become part of the Loop community, and receive regular updates to help you make smart decisions about using less energy.