All unit costs and calculations correct at the time of publication.
Festive Chills: how much will extra fridges cost you to run this Christmas?
It's that time of the year again. On come the Christmas lights, up goes the tree and decorations, and the extra drinks fridge gets filled up and plugged in. We don't want to be a Grinch, but all of this comes at a cost.
The festive season is an already expensive time as it is, without the eye-watering energy costs. So, it's more important than ever to consider how your household uses energy.
Hidden energy costs
You might not have ever thought about it, but the cost of keeping festive food and drinks treats cool can really add up. But, that doesn't mean Christmas is canceled! By taking a few steps to improve your energy efficiency you can ensure you're not needlessly wasting money on running your cooling appliances.
Firstly, you want to make sure that any extra fridges are A-rated. Old, inefficient fridges and freezers could cost twice as much to run.
It's worth considering how much space you really need too. Would defrosting your freezer free up some space, or is it worth spending almost £21 over the Christmas period to use an extra old inefficient one? If you do think it's worth it, just remember to unplug it after Christmas is over - otherwise, that £21 will turn into over £200 to run it for the year.
The running cost of extra fridges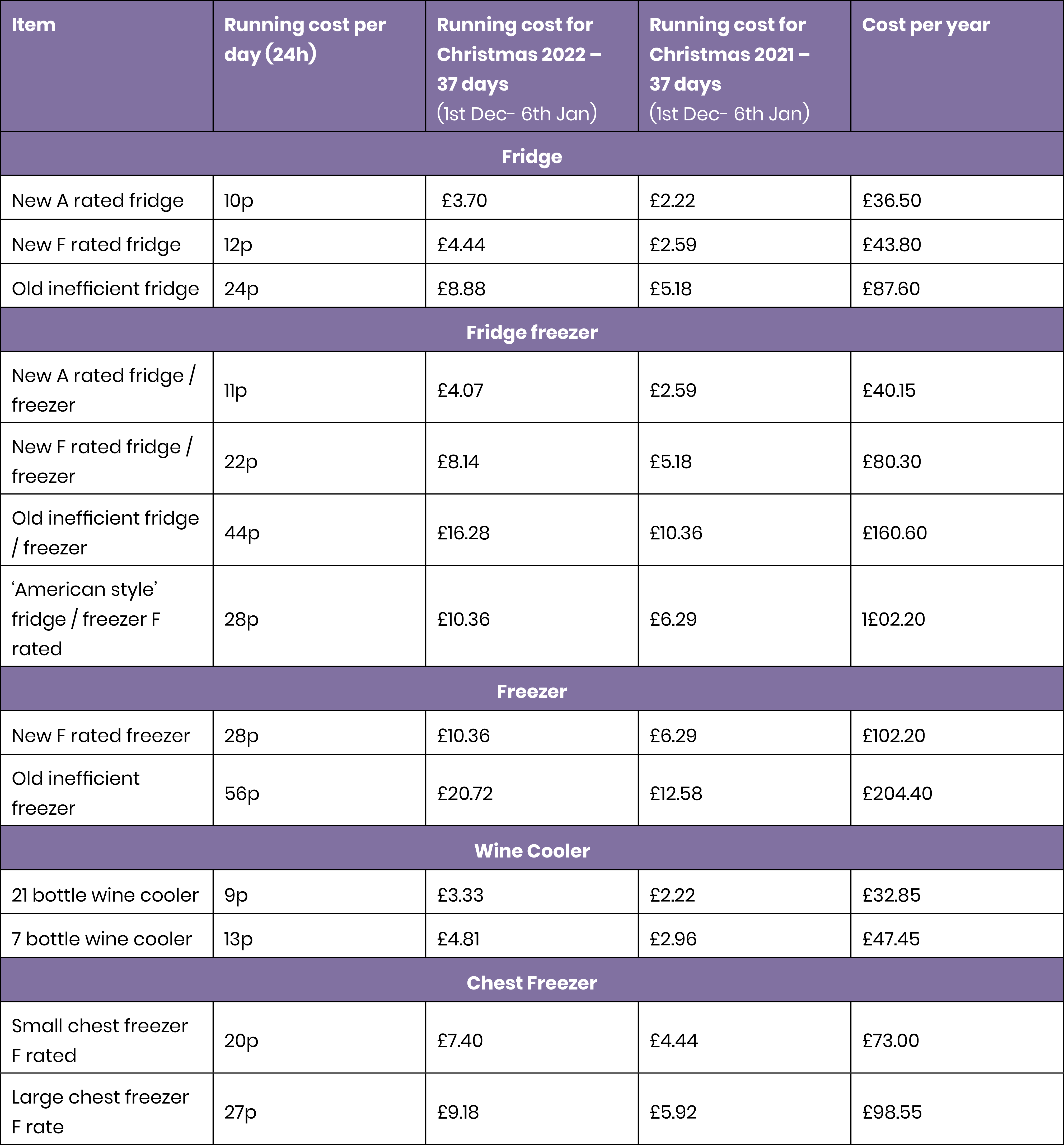 Alternative ways to chill festive food and drink
Rather than plugging in an extra drinks fridge, bottles and cans can be stored outside. A plastic lidded box will keep them away from any wildlife. When overnight temperatures dip below freezing store drinks in a garage or shed to prevent freezing.
Use cooling sleeves and rods to help keep your drinks cold. These are small and can fit into your existing freezer to use when you need to.
If you need to buy an additional fridge or freezer, don't just go for the cheapest option. Investing in the most energy-efficient A-rated models is key to keeping costs down. An older inefficient model could cost two or three times as much to run compared to a new A-rated model.
Keep your fridge and freezer at the ideal temperature to improve energy efficiency. For a fridge, this is between 37-40 F (3 - 5 C), and for a freezer 0 F (-18 C).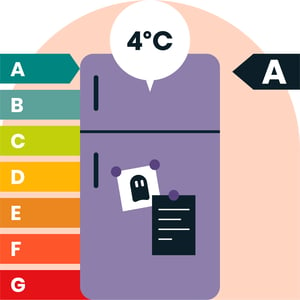 Consider if you really do need to bulk buy food and drink which you then need to store in an extra fridge or freezer. Not only will thinking carefully about what you really need help to save energy, but it also helps cut food waste too. Last year around 200,000 tonnes of Christmas food ended up in landfill.
Maintain your fridges and freezers by keeping the exterior free of dust. This means the cooling systems are not affected and will work as efficiently as possible.
Think about where you place your fridge and freezer. If they are near an oven or radiator they will have to work harder! Also, make sure there is at least a 5cm gap around the appliance.

Without this, the compressor, which cools down the inside of the appliance, will not release heat. This causes the fridge to heat up and work harder and longer to keep food at your desired temperature.

Don't forget to unplug extra fridges and freezers when they are empty after Christmas to avoid overpaying!
Steve Buckley, Head of Data Science at Loop, says:
"We all want to enjoy the festive period, but there's no denying that Christmas is an expensive time of year. And now more than ever people are looking to cut back on their outgoings.

"Energy use over Christmas is likely to rise due to colder weather, darker days and more people in the house. But there are some energy guzzling devices in use over Christmas that could be contributing to higher bills over Christmas. These include extra fridges and freezers – from mini drinks fridges to larger chest freezers. While the individual costs might not seem that significant, the pounds quickly add up, especially if people don't unplug the extra fridges and freezers once Christmas is over and they are empty. These appliances continue to drain energy, even when left on standby - this is what we call 'phantom load' and unused fridges and freezers are some of the worst phantom load culprits.

"Firstly, it's worth thinking about whether you really need to use an extra fridge or freezer over Christmas to chill or freeze the extra food and drink. If you do decide to plug in an extra fridge or freezer, we would warn people to be aware of the cost of old inefficient devices and urge people to unplug them once they are emptied after the festive period.

"We want to ensure bill payers are aware these extra fridges and freezers can add to electricity bills and help consider the best way to keep food and drinks chilled to perfection this Christmas."
• • •
With Loop, you can find out how you use energy, then make smart decisions about using less.
Got a smart meter? Great news! Link the Loop app and enjoy full access to all Loop benefits for free, no purchase required.
Subscribe
to our regular newsletter below to become part of the Loop community, and receive regular updates to help you make smart decisions about using less energy.