All unit costs and calculations correct at the time of publication.
The cost of keeping cool during a heatwave: how much are you spending?
As the weather heats up, many of us have been reaching for appliances to keep us cool. But, fans, air-conditioning units and garden heaters – for when the evenings get chilly - could be wasting some households £270 a month!
And for those lucky enough to own an inflatable swimming pool, a small 2kw heater could be adding an extra £137!
Summer energy stealers
We've calculated that for a family of four, each using a 40w fan at night could add £11 per month, or £33 over summer, to the household's energy bill. And plugging in an extra fridge to keep drinks cool over the three months of summer can add nearly £25 to bills.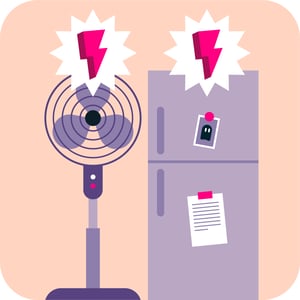 A word of warning for those opting for the extra cooling power of an AC unit to keep cool during the warmer summer days - it could cost a shocking 52 times in comparison to a standard fan.
If you're looking to escape the heat of the house by going outdoors in the evening, keep a check on your patio heater. They could add around £50 to your monthly energy bills if used for 4 hours a day – and even more if you forget to switch them off!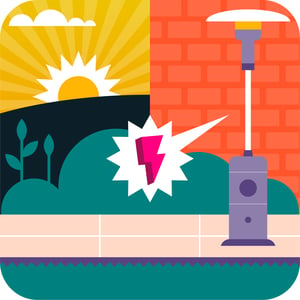 Cost of keeping cool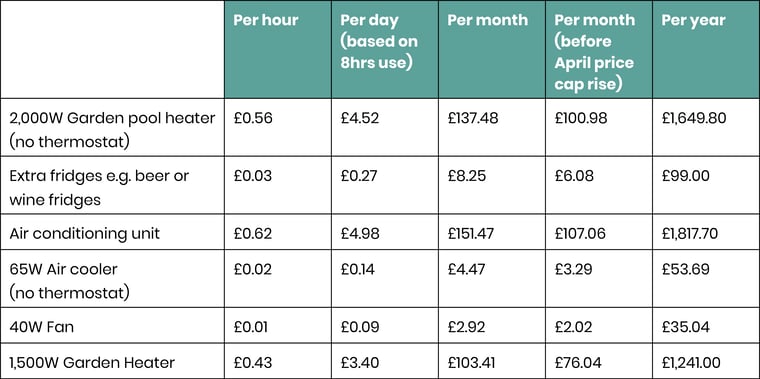 Steve Buckley, Head of Data Science at Loop, explains:  
"As we see the first patch of warm weather, many of us will be looking for ways to stay cool, but it's important to consider how much some of this equipment could be adding to your bills.

"At first glance, these costs may not seem that high on an hourly basis, but they can really add up if you've got a few devices running or you forget to switch them off. And many households need to do everything they can to lower their energy bills at the moment.

"Monitoring your energy usage on these cooling items by connecting Loop – the energy saving app - to your smart meter is key to making savings. The free Loop Snoop can help you easily identify the culprits draining your energy and adding pounds to your bills."
What can you do to lower the temperature of your home and your bill?
The first might seem obvious, but simply remember to turn off your cooling devices when you're not using them. You don't need to sacrifice your comfort. Just using your things more efficiently can help you save.
Have a cool shower. Not only will it cool you down in hot weather, but you'll use a lot less energy from heating the water too.
Keep your blinds and curtains closed during the day to block out direct sunlight. It will keep your home feeling cooler naturally.
Avoid using the oven, you'll be creating more heat inside your home. Instead, opt for a cold dinner or use the microwave - they're more energy-efficient!
Use an energy-saving app like Loop! Monitoring your energy use will help you spot any cooling devices you might have left on before they add considerably to your bill.
• • •
With Loop, you can find out how you use electricity, then make smart decisions about using less.
Got a smart meter? Great news! Link the Loop app and enjoy full access to all Loop benefits for free, no purchase required.
Subscribe
to our regular newsletter below to become part of the Loop community, and receive regular updates to help you make smart decisions about using less energy.