Whether you're motivated by saving money, or want to make greener energy choices, it can be hard to know where to start.
One potential solution is a smart meter, a new generation of gas and electricity meter that the government hopes will be installed in as many homes in Britain as possible.
With an in-home display showing home energy use in pounds and pence, smart meters are intended to bring an end to manual meter readings, while helping people take control of their energy use and adopt energy-saving habits.
Used alongside other energy-saving tools, a smart meter can be a helpful part of your efforts to create a more energy efficient household.
But while smart meters are a step in the right direction, they aren't the complete package and aren't right for everyone.
The smart meter roll-out
The government describes smart meters as the building blocks of a smarter energy system fit for the 21st century.
It has set an ambitious target of 2024 for all households in England, Scotland or Wales to have at least been offered one.
Your energy supplier will contact you to tell you when you can get a smart meter or you can request one yourself. They aren't compulsory and you can choose not to have one.
So far, according to the government, 13.7 million smart meters have been installed in homes and small businesses across Britain, but there are growing doubts that the 2024 target will be met.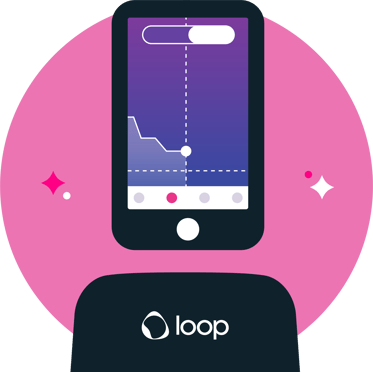 Should you have a smart meter installed?
Costs and savings
One of the main aims of smart meters is to help households to save money on energy.
As well as providing households with data on their energy use, the same information is sent to your energy supplier, so bills no longer need to be estimated.
But as a smart meter is purely an information provider, whether you actually make savings depends on how you use that information.
It's early days, but so far, it seems some homes are benefiting from smart meters and others aren't.
Research from consumer champion Which? showed that while 34% of smart meter owners think their gas and electricity use has reduced since they had a smart meter installed, another 20% have seen an increase. For the rest, there's been no change.
The smart meter rollout was originally estimated to cost £11 billion and save the average consumer £26 a year. But in 2016 this estimated saving fell to £11, or equivalent to less than 1% of a typical annual bill of £1,135.
Why Loop is smarter
Loop shows you how you use electricity and then helps you to make smart decisions about using less. You save money on your electricity and you help to save the planet.
Loop measures your usage up to every 10 seconds. This data is stored on our servers and available on your app in real-time. Smart Meters measure at a similar frequency but this live data is only available to the customer through their In-Home Display and not available on other devices such as a phone.
Loop can perform analysis that isn't possible with Smart Meter data. We can calculate your phantom load (energy wastage from leaving devices on standby), show your usage in real-time and give accurate estimates of the effect of installing solar and batteries on your bill.
Unlike a smart meter, Loop doesn't just provide information on energy used and money spent. Customers also receive energy efficiency recommendations based on their individual energy use.
Smart meters are installed by trained engineers, at a cost which is ultimately met by all bill payers.
Why Loop is smarter
Loop is a simple piece of self-installed kit and a companion app. You install Loop yourself, without the need for an engineer.
It doesn't matter if you already have a smart meter:
Loop gives an independent perspective on your energy use.
Loop will recommend changes that will save you money. Your smart meter is controlled by your supplier and they have no incentive to save you money.
Loop will help you become more efficient with your usage and ensure you stay on a good tariff.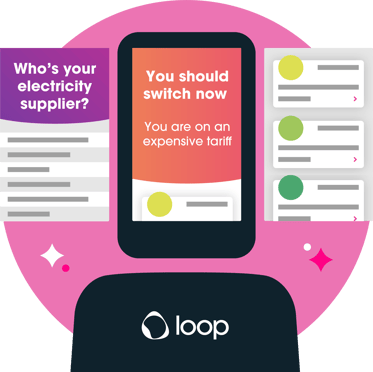 Switching energy supplier
One of the more effective ways to cut your energy bill is to switch suppliers to get a better deal elsewhere. In fact, households could save as much as £300 a year by switching to cheaper deals, according to analysis by the Competition and Markets Authority (CMA).
Smart meters do provide a limited amount of help with switching suppliers. They also give you access to a broader range of tariffs on the market
But for many people they've proved a hindrance rather than a help. Nearly half (48%) of smart meters have stopped working after a customer switched energy supplier, according to Which? research. This problem affects first generation smart meters, which make up the majority of smart meters currently in people's homes. The second-generation smart meters that are now being rolled out don't go 'dumb' in this way.
Why Loop is smarter
Even if you're getting a second-generation smart meter, it won't actually help you switch suppliers. Loop provides accurate and personalised switching prompts.
And crucially, Loop will always show you 'whole of market': all the tariffs available from all suppliers.
Beyond smart meters
Smart meters can be a helpful starting point for anyone seeking to improve their energy efficiency and save money.
But if you want greater and more personalised support for your energy-saving ambitions - including personalised data recommendations and help switching supplier - then try Loop.
...
With Loop, you can find out how you use electricity, then make smart decisions about using less - click here to find out more. We have a risk-free, no-quibble, money-back guarantee as standard, so what's to lose...apart from some £££ from your bills and some weight from your carbon footprint?
Subscribe to our regular newsletter below to become part of the Loop community, and receive regular updates to help you make smart decisions about using less energy.
Dates in article updated 29th May 2020. For more information on the changes to the smart meter roll-out, click here.