All unit costs and calculations correct at the time of publication.
Is your 'green' electricity tariff all that green?
Many people, conscious of their impact on the environment, opt for a 'green' energy tariff that claims to be up to 100% renewable.
But, unfortunately, there are many shades of green, and your tariff may not be as environmentally-friendly as you first expected.
Consumer organisations such as Which? have raised the red flag around green tariffs that don't really supply 100% renewable energy, and now energy regulator Ofgem has said it will take action. In January, the regulator said: "We are aware of growing concerns about 'greenwashing', where the environmental impact of a particular tariff or supplier is overstated. We expect suppliers to be transparent about what constitutes a 'green tariff' and we will undertake work to ensure that consumers are not misled."
How green is my green tariff?
If you choose a green tariff, it's important to understand that the electricity you use still comes from the National Grid, just like with other suppliers and tariffs. This means your energy comes from a mix of sources, such as coal, hydro, nuclear and solar (however, they are increasingly low carbon). Everyone getting electricity from the National Grid gets the same stuff, regardless of the tariff they are on.
So, where does 'green' come into it? A green tariff lives up to its name by the supplier making purchases of renewable energy on your behalf to 'match' some or all of the electricity you buy.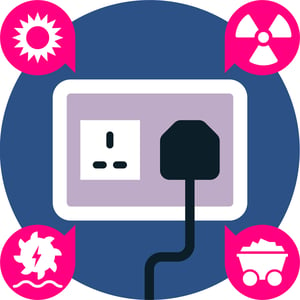 Suppliers go about this in different ways and the result is that some tariffs are far greener than others. Concluding its research into green tariffs last year, Which? put suppliers into three groups, with the first being decidedly the greenest:
Suppliers that consistently generate enough renewable electricity themselves to match customer use, or buy the equivalent directly from generators. These are the ones to pick if you want to be confident you're helping increase the amount of new renewable electricity generated. Examples of suppliers in this group included Good Energy and Ecotricity.
Those that generate some renewable electricity or buy directly from generators – but this only accounts for a proportion of the energy they supply, or they've only started doing this recently. Examples of suppliers in this group included Bulb and Flow.
Those that don't exclusively offer 100% renewable tariffs or that neither generate renewable electricity nor buy any directly from generators. They buy electricity on the wholesale market and purchase so-called REGO certificates. These certificates are issued to a generator for every megawatt hour (MWh) of renewable power that it puts into the grid. Energy firms can buy them off generators to show the proportion of renewable electricity that sell. Examples of suppliers in this group included Pure Planet and Green Star Energy.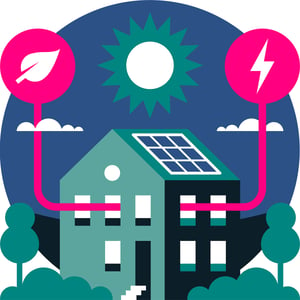 Time to go green?
It's little surprise that confusion over green tariffs is a barrier to switching. That's the case for over a third (38%) of people, according to a YouGov poll published in November. A further 21% said not knowing which green energy supplier to use would also be off-putting.
The best way to ensure you are using 100% renewable energy is to generate it yourself, using solar panels or another type of renewable energy generation.
But if you aren't in a position to do that, you should still consider a green tariff. With a bit of homework you can find one that is genuinely green. And by doing so, as Energy Saving Trust argues, you will be sending a clear message that you care about the carbon content of your electricity, and you would like the energy industry to do what they can to reduce it.
• • •
With Loop, you can find out how you use electricity, then make smart decisions about using less - click here to find out more. We have a risk-free, no-quibble, money-back guarantee as standard, so what's to lose...apart from some £££ from your bills and some weight from your carbon footprint?
Subscribe
to our regular newsletter below to become part of the Loop community, and receive regular updates to help you make smart decisions about using less energy.